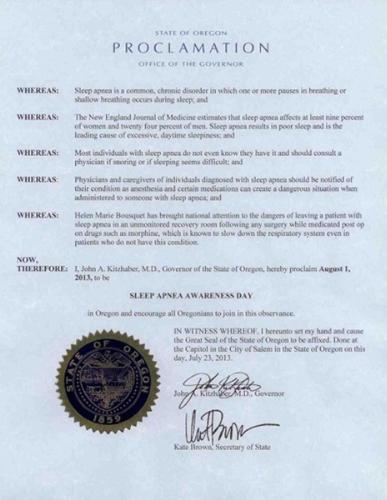 At least 12 governors nationwide have recently signed sleep apnea awareness proclamations, which acknowledge the dangers of the sleep disorder and declare "Sleep Apnea Awareness Day" in the given state. Proclamations have been signed by Governor Dr John Kitzhaber of Oregon, Governor Maggie Hassan of New Hampshire, Governor Pat Quinn of Illinois, Governor Bill Haslam of Tennessee, Governor Neil Abercrombie of Hawaii, Governor Paul LePage of Maine, Governor Pat McCrory of North Carolina, Governor Brian Sandoval of Nevada, Governor John Hickenlooper of Colorado, Governor Jay Nixon of Missouri, Governor Susana Martinez of New Mexico, and Governor Dave Heineman of Nebraska.
The proclamations are in response to the death of Helen Marie Bousquet of Massachusetts, a known sleep apnea patient who died from sleep apnea-contributed respiratory failure following knee surgery, according to the state-issued death certificate. Bousquet's son, Brian Evans, alleges (via a lawsuit filed against the hospital in Massachusetts District Court) that Bousquet was not provided access to a CPAP machine after her surgery.
Evans and his supporters approached all 50 governors to issue the proclamations. They are awaiting replies from more than 30 governors and three governors (Governor Steve Bullock of Montana, Governor Deval Patrick of Massachusetts, and Governor Gary Herbert of Utah) declined to sign.
Evans is also writing a book about his experience, which will be released by H Infinity Books in June 2014.