Can you solve this sleep medicine-themed crossword puzzle, designed specifically for Sleep Review readers? A hard copy published in the January 2018 issue.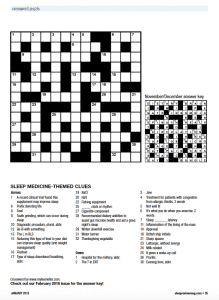 Click on the thumbnail or 0118Crossword to open a printable PDF.
Sleep Medicine-Themed Clues
Across
1 A recent clinical trial found this supplement may improve sleep
6 Prefix denoting life
8 Goal
9 Teeth grinding, which can occur during sleep
10 Diagnostic procedure, plural, abbr.
12 Be ill with something
13 The L in RLS
15 Reducing this type of food in your diet can improve sleep quality (and weight management)
16 Flushed
17 Type of sleep-disordered breathing, abbr.
19 NaCI
20 Halt
22 Fishing equipment
25 _____ clock or rhythm
27 Cigarette component
28 Recommended dietary addition to assist gut microbe health and aid a good night's sleep
29 Winter downhill exercise
31 Water barrier
32 Thanksgiving vegetable
Down
1 Hospital for the military, abbr.
2 The T in ENT
3 Jaw
4 Treatment for patients with congestion from allergic rhinitis, 2 words
5 Not well lit
6 It's what you do when you exercise, 2 words
7 Sleep _______ latency
11 Inflammation of the lining of the nose
14 Approval
18 British ship initials
21 Sharp spasm
23 Lethargic, without energy
24 Milk related
25 It gives a wake-up call
26 Pruritic
30 Evening time, abbr.
UPDATED 2/14/18:  Here is the answer key. The key is also published in the February 2018 issue. To suggest clues for an upcoming sleep crossword, email sroy[at]medqor.com. To sponsor a future puzzle, email rfelts[at]medqor.com.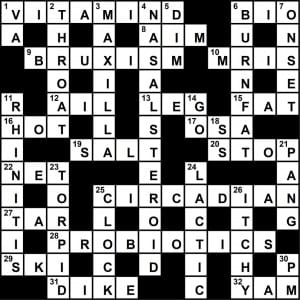 Myles Mellor is a full-time professional crossword puzzle writer who is internationally published.