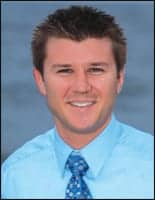 In a move that is a reaction to reimbursement cuts and a step to bolster patient care, the American Academy of Sleep Medicine (AASM) submitted a draft proposal for an integrated delivery model for sleep medicine to the Centers for Medicare and Medicaid Services (CMS). Successfully moving the proposal forward hinges on a few key components: improved patient outcomes, health care dollar savings, a demonstrated ability to curb fraud and abuse, and a defined role for durable medical equipment (DME) and home sleep testing (HST) companies.
The proposal stands on three key elements. The AASM has asked CMS to:
Open the application process for approval of the Academy as a CMS deemed authority for DME supplier accreditation,
Provide a carve-out to allow integrated delivery model test locations to administer diagnostic and therapeutic services to sleep apnea patients,
Create a carve-out for independent diagnostic testing facility (IDTF) integrated delivery model test locations to be permitted to treat patients and provide DME.
These elements would concentrate the diagnosis and treatment of sleep apnea patients in the hands of the sleep specialist. The role of other participants in the treatment pathway, namely DME and home testing companies, is not clearly defined in the proposal. Excluding such groups could work contrary to the goals of the integrated delivery model. DME companies that had previously been apprehensive about supporting HST because of fear of losing referrals from sleep labs could be compelled to push HST—most likely to the primary care physician (PCP). This would leave diagnosis and treatment of those patients in the hands of the PCP, DME provider, and HST company. The AASM initiative isn't geared to produce that type of outcome.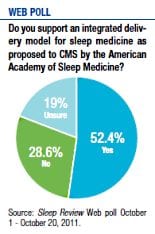 "It is certainly not anywhere near a final proposal," says Nancy Collop, MD, FAASM, AASM president. "There are ways that DMEs could better partner with centers, and there are ways that networks could be set up so that patients are funneled through a system." Cautioning people from reading too much into the proposal, Collop says, "There are issues that have to be carefully thought out as we move forward."
If the initiative is to succeed, it would also have to head off concerns about fraud and abuse. "If you are certifying the need for therapy and providing the therapy, it could open the door for a lot of abuse," says Henry Johns, RPSGT, CRT, CPFT, program manager of sleep, respiratory therapy, EEG, and cardio-diagnostics for the VA Eastern Kansas Health Care System. "Like it or not, there are a lot of less-than-stellar business plans associated with sleep medicine."
Patient outcomes and health care dollar savings will also have to be shown. According to the proposal, CMS could confirm if there are improved outcomes and cost savings resulting from the care received when a single entity provides both diagnosis and treatment.
Three key components of success deal with finances—demonstrating savings and lack of fraud, and, to some degree, integrating DME and home testing companies into the diagnosis and treatment pathway. While it's easy to get tied up in working out financial issues, ultimately keeping patient outcomes at the center will drive the best policy.
—Franklin A. Holman
[email protected]