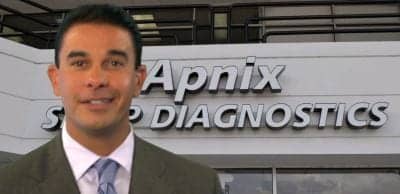 When Steve Cela founded Apnix Sleep Diagnostics in 2000, it was an opportunity to return to his health care roots. Although he'd aspired to be a doctor, life took him in a different direction—business, to be precise. After completing a Master's in Business at the University of Texas, Cela's professional path took him down a road that included private equity and investment work, as well as acquisition and growth of a manufacturing company. Little did he know his background would affect thousands of lives for the better.
In 2000, Cela met a respiratory therapist who helped treat a friend for sleep apnea. Cela was skeptical about the effectiveness of any treatment that involved wearing a mask. He doubted anyone would do it, but soon saw the improvement his friend experienced.
That's when Cela got the offer that brought him back to his health care roots. The same therapist who treated his friend was looking for investors to start a sleep diagnostic company. Cela, seeing first hand how this service transformed his friend, started researching to see if this was a business path he wanted to take. He soon discovered that 70 million people suffered from some sort of sleep disorder and would be more than willing to use CPAP to treat a problem like sleep apnea. He also discovered how this therapy could impact other aspects of health. It was an opportunity to combine his health care ambitions with the business acumen he had developed throughout his professional career; and soon after, Apnix Sleep Diagnostics was born.
"Immediately, I saw patients' lives being changed. I actually saw a guy come in and hug my partner saying that he saved his life, that really had an impact on me personally," Cela recalls.
Growth of a Commitment
Now, after 11 years in business, Apnix Sleep Diagnostics, an American Academy of Sleep Medicine-accredited lab, has grown to nine locations in the greater Houston area. Apnix has gone from conducting 40 sleep studies a month to more than 300 monthly studies, and is still growing. That growth is a direct result of Cela and Apnix's commitment to their patients and a focus on providing a "wow" factor when it comes to customer service.
Apnix sees itself as "a hospitality business in which we provide medical care or diagnostic services to patients," Cela says. This philosophy, coupled with its continued commitment to customer service, has created a company that makes sleep diagnostic testing a more pleasant experience.
"One of the top values we offer that makes us so different is exceptional customer service. We strive to really exceed patients' expectations and satisfaction. That value is pervasive to the whole company," Cela says.
But Apnix is not just about customer service and aesthetics. At its core, it's a sleep diagnostic lab on a mission to help patients overcome sleep disorders through diagnosis and treatment. That mission continues beyond its doors. Apnix is committed to educating people on sleep awareness by advocating the value of good sleep health. This is being done through participation in local events and health fairs, and directly with local primary care physicians by helping educate them about the importance of good sleep health and its effects on other medical issues, making Apnix the first line of defense in combating sleep-related disorders. Plus, Apnix, to further its educational mission, has cultivated relationships with a number of the most nationally recognized experts in the field of sleep medicine. Some of these authorities are now included as facility medical directors as well as consultants on its clinical advisory board.
Another key practice Cela put in place is a patient satisfaction survey. This ensures that Apnix is living up to the highest of standards and patients are consistently receiving the best service. The final question on that survey: Would you refer a family member or friend to us? "The answer is consistently yes, and they do refer people! I think that is the ultimate question that gives Apnix the seal of approval," Cela says.
The patient's total experience is the company's focus. They don't want the patient's experience to feel like they're in a lab. "We want it to look good, feel good, and even smell good, nonclinical," Cela says. "That's one of the major factors that set us apart."
Apnix's labs are run by devoted professionals and feature luxurious surroundings, spacious patient rooms, flat screen TVs, private baths and showers, and hotel-quality toiletries; according to its patients, coming to Apnix for a sleep test is much like staying in a five-star hotel.
The Apnix mission, Cela says, is "to continually improve our services, exceed customer expectations and the care experience, and ultimately change our patients' lives for the better."
---
Tina Page is a freelance writer based in Lomita, Calif. She can be reached at .
Apnix Sleep Diagnostics
Greater Houston, Texas
713.349.9767
www.apnix.com