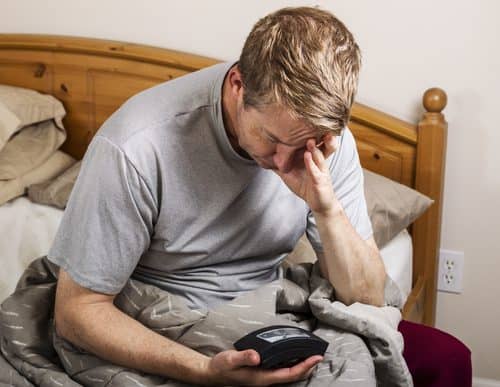 New data presented at the European Association of Urology (EAU) congress show that nocturia is associated with significant reductions in work productivity and leisure activity in line with other common chronic disorders such as asthma, COPD (chronic obstructive pulmonary disease), and GERD (gastro-esophageal reflux disease).1 Nocturia was found to reduce work productivity by almost 25% in the working population.1
Further study results also show that sufferers consider disturbed sleep to be the most burdensome symptom, and around a third of people with nocturia are unable to get back to sleep after urinating, leading to insomnia.2
Fragmented sleep is a serious consequence of nocturia and has the potential to negatively affect daytime performance. An analysis of data collected from two, three-month, randomized, controlled clinical trials (n=646) was carried out as part of an economic evaluation to compare the effect of nocturia on productivity and activity with that of other chronic diseases. Work productivity was assessed using the Work Productivity and Activity Impairment Questionnaire.3
A work productivity loss of 24% was observed with nocturia. This is higher than that reported for overactive bladder (10-12%),4 and comparable to other non-urological chronic conditions such as GERD (25%),5 severe asthma (21%),6 COPD (19%),7 and constipation (34%).8 Furthermore, patients' ability to conduct daytime activities was reduced by 34% with nocturia.1
Commenting on the results of the study, Philip Van Kerrebroeck, MD, PhD, University of Maastricht, said: "Nocturia is a common problem affecting around a third of adults, but its burden is underestimated and it is often dismissed as being less serious than other chronic conditions in terms of impact on quality of life and societal costs. These data show that nocturia negatively affects both sleep and daytime performance and its impact on work productivity is in line with many other chronic conditions. Patients with nocturia should seek specific treatment for this debilitating condition."
The second data set presented at EAU was an analysis of subjective, patient-reported data on which nocturia symptoms they find most bothersome. The multiple negative effects on quality of life associated with nocturia have been reported previously, but no studies to date have asked patients to give their reasons why nocturia is so debilitating.
Men and women in two randomized controlled trials (n=786, women 273, men 513) were asked what bothers them most about having to get up at night to void and answers were recorded verbatim.2 Sleep disturbance was the most bothersome symptom associated with nocturia (57% of males and 42% of women). The inability to go back to sleep was ranked as the second most bothersome symptom by 32% of men and 28% of women, and the third ranked symptom was feeling tired the next morning (17% of men and 15% of women). Self-reported signs and symptoms did not differ significantly with gender. However, age was important as a small subgroup of older patients specifically mentioned fear of falling, especially due to dizziness and walking through a dark house to go to the toilet, as bothersome.
"I have started considering my sleep pattern as a series of naps," explained one patient in the study. "I can't ever fall back asleep. I start watching TV all night and I am miserable the next day," said another.
References
1. Andersson F et al. Nocturia has a strong impact on productivity – a comparison with different chronic diseases. EAU 2013: presented at poster session "Nocturia, OAB, metabolic syndrome – towards a new management," abstract #406.
2. Holm-Larsen T et al. "My sleep pattern is a series of naps." Subjective patient-reported data on what is most bothersome about nocturia. EAU 2013: presented at poster session "Nocturia, OAB, metabolic syndrome – towards a new management," abstract number #405.
3. Reilly MC et al. The validity and reproducibility of a work productivity and activity impairment instrument. Pharmacoeconomics. 1993;4:353-365. doi: 10.2165/00019053-199304050-00006.
4. Coyne KS et al. The prevalence of lower urinary tract symptoms (LUTS) and overactive bladder (OAB) by racial/ethnic group and age: Results from OAB-POLL. Neurourol Urodyn. 2012 Jul 27. doi: 10.1002/nau.22295.
5. Wahlqvist P et al. Validity of a Work Productivity and Activity Impairment questionnaire for patients with symptoms of gastro-esophageal reflux disease (WPAI-GERD) – results from a cross-sectional study. Value Health. 2002;5:106-113.
6. Chen E et al. Chronic traffic-related air pollution and stress interact to predict biologic and clinical outcomes in asthma. Environ Health Perspect. 2008;116:970-975.
7. Di Bonaventura M et al. The burden of chronic obstructive pulmonary disease among employed adults. Int J Chron Obstruct Pulmon Dis. 2012;7:211-219.
8. Sun SX et al. Impact of chronic constipation on health-related quality of life, work productivity, and healthcare resource use: an analysis of the National Health and Wellness Survey. Dig Dis Sci. 2011;56:2688-2695.