Nasal CPAP/Bilevel/NPPV Mask
Hans Rudolph Inc, Kansas City, Mo, introduces the ALIZES™, a nasal CPAP/bilevel/NPPV mask and swivel port assembly that can withstand steam autoclaving, dishwashers, and cold chemical disinfection. The new CO2 deflector vent design allows exhaled CO2 to be vented away quietly, and a new retainer clip secures assembly for rough sleepers. Soft and lightweight, the mask comes in sizes to fit most patients and allows them to read or watch TV while wearing the mask. It features two face-sealing options to guarantee a good seal and comfort during CPAP therapy, an adjustable nose strap, and either a soft silicone rubber mask flange or supersoft Comfort Seal™ Foam. Two types of headgear are available in three sizes of each. (800) 456-6695.
---

Digital Nudge
The SnoreStopper by HIVOX Biotek Co, Fremont, Calif, offers a less-intrusive alternative to other snoring solutions, such as mouthpieces and surgery. Worn on the wrist like a watch, SnoreStopper uses biosensors to detect a sleeper's snore. It then issues a gentle electronic pulse that trains the body to relax the muscles and end the snoring. According to the company, preliminary findings of several sleep disorder studies' focus groups show a 78% success rate. The product—available in blue and metallic silver—currently is offered with a 30-day free trial period. (877) 448-6988.
---

Convertible CPAP
Fisher & Paykel Healthcare, Laguna Hills, Calif, offers the HC211 convertible CPAP for first-time users. The versatile machine comes as a standard CPAP unit, but in less than a minute, can be converted to the top-of-the-line HC220LE series model with enhanced performance features. Newly diagnosed OSA patients can begin CPAP therapy and then add heated humidification if the need arises, yet still have all the benefits of true integration. There is no additional bulk with conversion. (800) 446-3908.
---

Sensor Tester
Pro-Tech® Services Inc, Mukilteo, Wash, introduces the ST-3™ sensor tester for testing sleep sensors, electrodes, and polygraph channels. Sleep technicians can check and verify EEG electrodes and wires for continuity. Respiratory effort sensors, snore sensors, airflow sensors, PLM sensors, and most body position sensors can be tested for output. The square wave generator verifies channels of the polygraph and makes certain that the inputs of jackboxes and DC high-level input boxes are not faulty. With the ST-3, basic testing can be done by one technician with quick and accurate results. (800) 919-3900.
---

Full-face CPAP Mask
Respironics Inc, Murrysville, Pa, introduces the ComfortFull™ full-face mask offering improved seal, fit, comfort, and ease of use for patients who have difficulty complying with nasal mask therapy due to mouth breathing.
The newest mask in the Comfort Series™, it features a soft, dual-flap cushion to prevent pressure points, especially at the bridge of the nose. An adjustable forehead arm allows for optimal seal and stability—without overtightening the headgear. Fit and compliance are enhanced by the addition of Quick Clips™ and ball-and-socket headgear clips that provide increased nighttime mobility. The mask also features a quick-release swivel, which easily disconnects the mask from the hose. In addition, the unit uses Respironics' ComfortHeadgear™ for a sturdier, more stable mask foundation. ComfortHeadgear can be used with most Respironics masks. (800) 345-6443.
---

Personal Recording Device
The new MediPalm personal recording device from Braebon Medical Corp, Ogdensburg, NY, is used for attended or unattended sleep recordings in the sleep laboratory, hospital ward, or patient's home. Available in three versions—full PSG, apnea screen, and insomnia/PLMs/activity—the MediPalm records up to 20 parameters in one palm-sized enclosure. Up to eight EEG, EOG, EMG, and ECG at variable sampling rates can be recorded along with respiratory effort, SaO2, pulse rate, sum, pressure, snoring, body position, and user events. They all can be viewed on the internal LCD. Designed to work with virtually anyone's analysis software, the MediPalm comes with all sleep sensors, electrodes, a carrying case, and collection software. (888) 462-4841.
---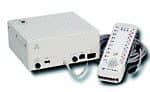 Reduced Noise CPAP Interface
InnoMed Technologies, Greensburg, Pa, introduces the second generation of its CPAP interface, the Nasal-Aire II®. The new unit shares many of the comfort and compliance benefits of the original Nasal-Aire, adding improved performance and a reduction in sound level. Nasal-Aire II comes in six sizes and includes optional headgear for stability. A new sizing gauge is available for easy and accurate fitting. (800) 200-9842.
---

Pulse Oximeter
Masimo Corp, Irvine, Calif, introduces the Masimo SET version four (V4.1). In addition to improving Masimo SET's sensitivity (the ability to detect true desaturation events) and specificity (the ability to not false alarm), the release also debuts Adaptive Probe Off Detection™ (APOD) technology. APOD is a powerful algorithm that minimizes the risk of measurement when a probe is off the patient. Studies of APOD in the most difficult situations (when a sensor attached to a subject was removed during monitoring) had incorrect reading rates of only 1%, according to the company. V4.1 also incorporates Perfusion Index, Signal IQ™, and FastSat™.
Most, if not all, existing Masimo SET customers may upgrade to V4.1 without hardware change. Masimo SET V4 is forward and backward compatible with all production MS Boards, Radical, Rad-9, and Masimo SET LNOP and NR sensors. (949) 250-9688.