The SoClean CPAP cleaner and sanitizer utilizes activated oxygen, or ozone, to kill 99.9% of germs and bacteria, reaching areas that other cleaning methods can't.
If not properly cleaned at least once a week, CPAP machines can harbor pathogens that make users sick, ultimately defeating the purpose of therapy and lowering compliance. And while the CPAP machine is the most popular doctor-prescribed treatment for obstructive sleep apnea, approximately 50% of all patients who are diagnosed with it and prescribed CPAP therapy will abandon treatment or fail on CPAP, according to the American Sleep Apnea Association.
There are many reasons why people don't comply with their CPAP therapy, but one of the big ones is that cleaning the equipment with soap and water is too difficult and time-consuming. Weekly cleanings simply aren't realistic for many patients, and it's inconvenient enough that many do their best to avoid it. Plus, it's nearly impossible to adequately reach every part of the equipment, or to remove all pathogens, by using soap and water or wipes.
Yet when sleep apnea patients set out looking for the best at-home CPAP cleaner, they're often confused by the volume and variety of options on the market and by the claims about which is superior. Needless to say, there's more than one way to clean a CPAP machine.
When we were first developing the SoClean CPAP cleaning machine, our R&D team tested different types of technology. We wanted to design a product that would help create the peace of mind that patients get when they know their CPAP equipment has been effectively sanitized and cleaned—a product that would make it easier for patients to comply with their CPAP therapy.
Why Activated Oxygen Cleaning Technology?
We initially considered UV light technology. However, during early stages of development, we discovered that UV light could not achieve our target level of sanitation—specifically within the hose and shaded areas.
That's why we ultimately settled on using ozone—also known as O3 or activated oxygen—technology. With SoClean's design and technology, ozone is a safe, naturally occurring gas that has been used to purify water since the 1800s. Today, it's also a trusted sanitizing process used by hospitals, food handlers, and the hotel industry. And now, it quickly and easily sanitizes the entire CPAP system (mask, hose, and reservoir). SoClean does not use any water or harsh chemicals, and with its activated oxygen cleaning method, it can reach areas that other cleaning methods can't. It pumps ozone through the SoClean closed-loop system, sanitizing the entire system and requiring no disassembly of the CPAP equipment in order to do so.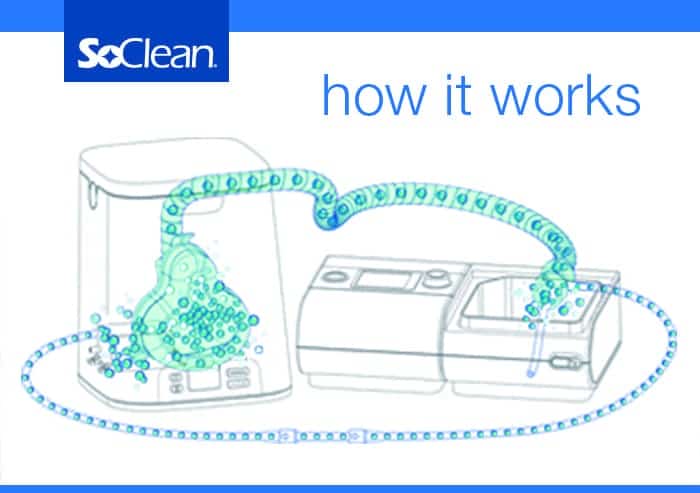 "Activated oxygen is 99% effective as a germicidal," says sleep expert Robert Rosenberg, DO, FCCP, a medical advisor to SoClean. "The beauty of it is it gets into all the nooks and crannies of the hoses of the mask on the humidification system, which we believe is a major breeding ground for infection. A lot of people either leave the water in their CPAP machine; they don't change their water regularly; or they just have some residual water that's left in there. And that can be a breeding ground for infection."
One study concluded that "ozone decontamination is superior" and that ozone generators "can provide a valuable decontamination tool … in many institutional and communal settings, including hospitals and other healthcare institutions."
"With proper cleaning [of the CPAP machine], and especially when you use something like SoClean, we find that the incidence of [upper respiratory] infection is far less, and people are relieved to know that there's a convenient way of cleaning their machine that will not require a lot of time and really is quite simple," says Rosenberg.
When It Comes to CPAP Therapy, Cleaning Convenience Is Key
While effectiveness is SoClean's top priority, convenience runs a close second. Patients have a simple onetime setup (and cartridge replacement around every 6 months), after which SoClean frees CPAP machine users of the pains that accompany daily setup and preparation. Users simply take off their CPAP mask and place it right inside the cleaning unit. They don't even need to disconnect the hose. And the CPAP equipment remains completely dry.
The SoClean device also connects with all types of PAP equipment, including CPAP, Bi-PAP, BPA, and VPAP. And we've rolled out a portable CPAP sanitizing device that's great for anyone who spends a lot of time away from home.
The popularity of SoClean has predictably led to the launch of other CPAP cleaners. But SoClean continues to stand out in the field because, unlike the newcomers, SoClean has been independently lab tested and proven to reduce various pathogen species in CPAP equipment by an average minimum of 99.9%.
The SoClean Specs
Warranty: 2 years
Estimated Useful Life: 5 years
Power: 110-240 VAC
Cycle Time: 7 minutes (main cycle, user selected) plus 2-hour rest period
Reimbursement: At this time the SoClean is not covered under health insurance. However, an HSA or FSA account can be used to purchase it. The eligible product list number is #9274.
Cost: $319, with financing available as low as $26.59/month: www.soclean.com/bread-financing.
SoClean can be purchased at local medical equipment providers or online at SoClean.com.
This content is paid for by: