With obesity rates rising, it may be time for your sleep disorders center to rethink patient beds.
By Lindsey Nolen
Beds at sleep disorders centers should set the stage for a successful sleep study, and this includes beds for bariatric patients as well. Considerations for beds for patients who weigh more and/or are very tall include ensuring the bed is designed to support their weight and height as well as facilitating safe movement in and out of the bed.
"Having a bed collapse is never good for the patient, caregivers, or the facility," says Lynn Tebay, vice president of the sleep lab division at Wallace Flynn Inc, makers of the brand SleepLab Bed. "In reality, household mattresses, frames, and pine foundations are not made to handle bariatric use, yet these are still being used by sleep labs across the country."
Many of Wallace Flynn's sleep lab clients who plan ahead for bariatric patients tend to prefer a selection of 600 lb capacity beds, plus one 750 lb capacity bed, Tebay says. "These beds reduce the physical demands of mobilization on caregivers that often places the risk on both the patient and the caregiver," she says. "Each model is made to accommodate different patients."
Tebay says bariatric patients may have trouble with "static" beds, or beds that will not adjust up or down in height. She says adjustable beds are a safer option for this demographic.
In his 14 years working in sleep medicine, Geoff Eade, RPSGT, CCSH, manager of the King's Daughters Medical Center Sleep Center in Brookhaven, Miss, has worked with a wide variety of sleep lab frames and mattresses. Some mattresses had springs, some memory foam, and some a hybrid combination of both springs and foam, he says. Still, other labs have regular hospital beds with a generic padded mattress.
"As we all know, patients can be picky about the comfort level of the mattress in the sleep lab. Selecting the right mattress can be challenging since we can't accommodate every patient's preference," says Eade. "In my experience, the best choice has been the hybrid combination of springs and memory foam. Having this mattress has resulted in the fewest number of patient complaints."
In Eade's view, the biggest challenge when matching bariatric patients to appropriate sleep lab beds has been finding the balance between the mattress being too soft or too firm. Ordering a mattress online does not allow for the opportunity to experience its firmness before purchase, but going to a mattress store locally means fewer options, he observes. Ultimately, he recommends talking to other sleep lab managers to help determine the best options.
"The best sleep lab bed experience for patients will center on them feeling comfortable and safe like they do at home. The sleep lab bed needs to fulfill those expectations," Eade says.
Eade adds that many morbidly obese patients request a recliner to sleep in because they have a lot of trouble breathing while lying flat on a mattress. In those scenarios, he recommends looking for reinforced chair-and-a-half recliners with a weight capacity of more than 700 lbs. Alternatively, for patients who are OK with sleeping in a bed, sleep lab managers may prefer frames made of reinforced metal or incorporate a stage-styled base.
When working with tall patients, Eade says that XL mattresses can be ordered that are the same width as a full-size mattress but are a few inches longer.
"Our goal is to provide the best experience with our sleep lab beds to most accurately diagnose sleep disorders," Eade says.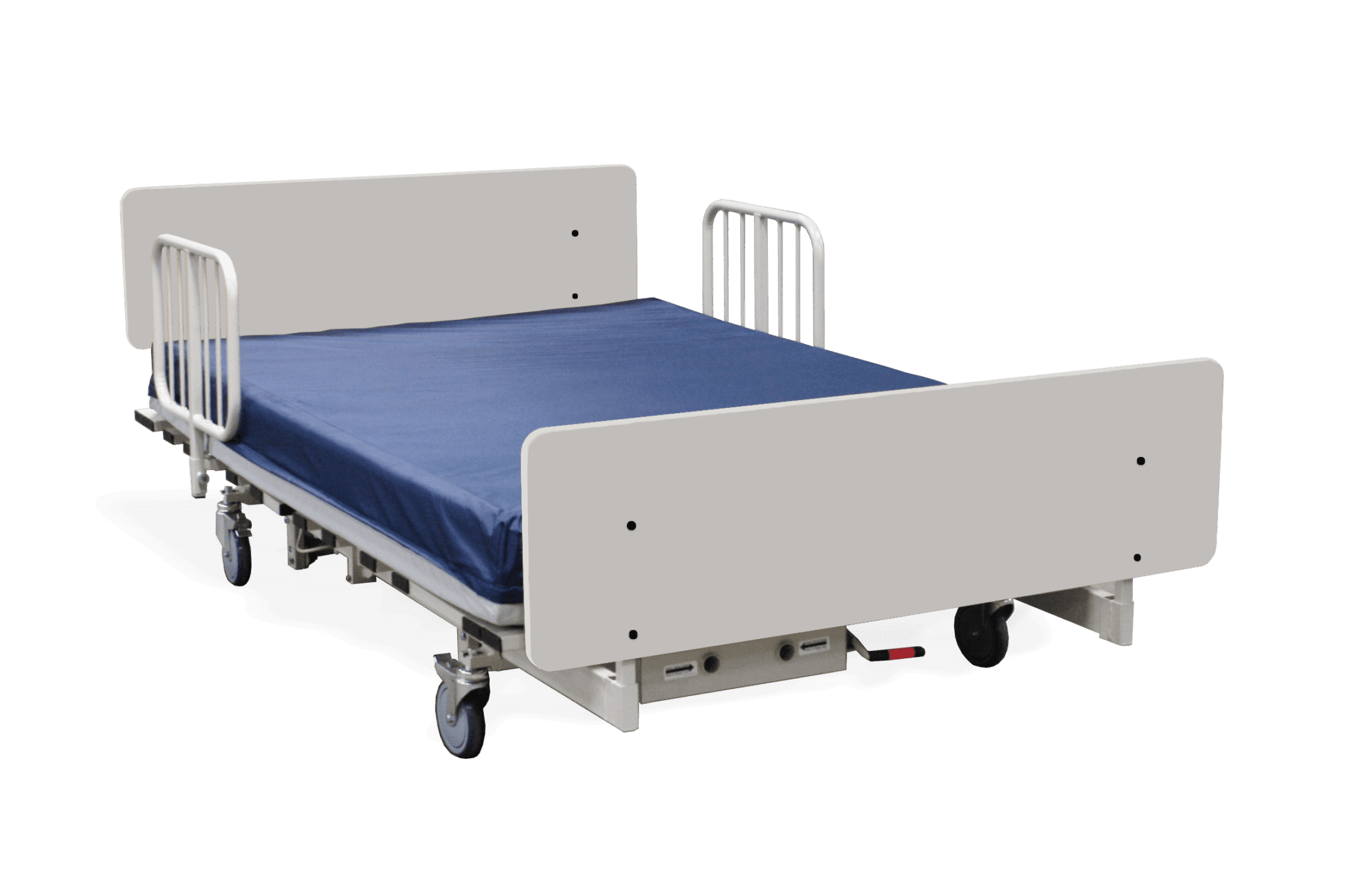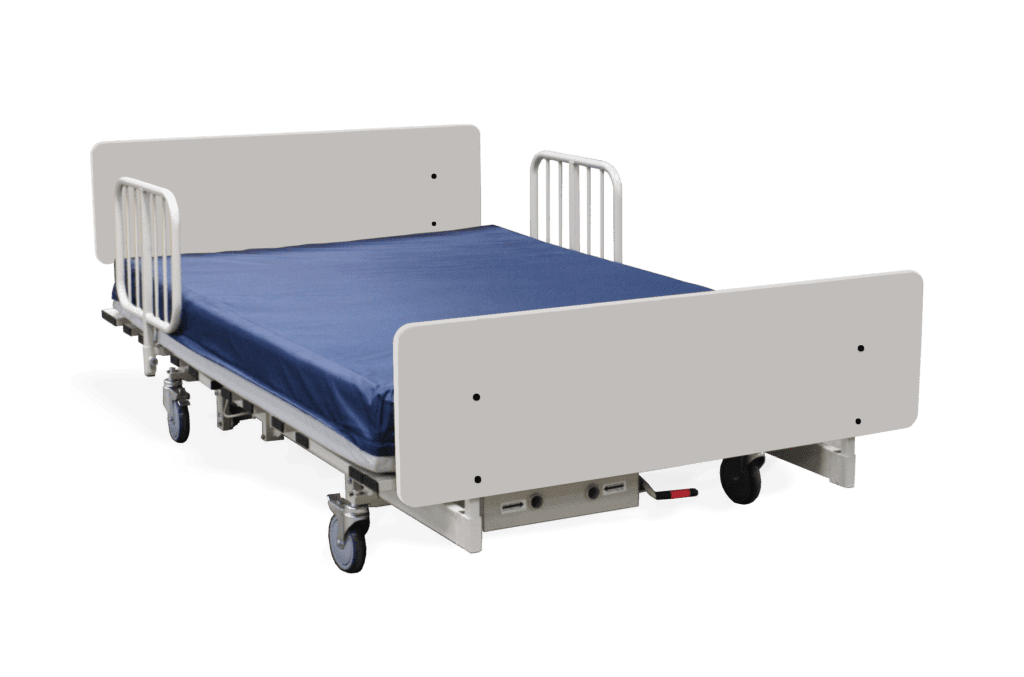 John Blackburn, product marketing manager at Agiliti, makers of the sleep lab bed brand Sizewise, agrees that the right bed features provide an extra level of safety and comfort for the patient and sleep lab team.
"From 1999 through 2018, the [Centers for Disease Control and Prevention] noted a 39% increase in adult obesity rates and a 95% increase in severe obesity.1 This trend is likely to continue— increasing the number of sleep study patients in future years," Blackburn says. "Weight capacity, bed size, and side rails are safety factors that need to be considered."
He says some patient complaints spur from some sleep centers using old hospital beds or mattresses well past their prime. In his view, a solution is a bed with an adjustable base and an adjustable firmness mattress that will accommodate a wide range of patient sizes and comfort preferences. "More and more, patients are choosing air-adjustable beds for their homes—so it only makes sense that they'd want the same type of comfort away from home," he says.
Overall, selecting sleeping surfaces for patient safety and comfort is a savvy move to facilitate an adequate amount of sleep for a valid sleep study. And that's true for both bariatric and nonbariatric patient populations.
Lindsey Nolen is a Jacksonville, Fla-based journalist who has been writing about healthcare for over 5 years.
Reference
1. Hales CM, Carroll MD, Fryar CD, Ogden CL. Prevalence of obesity and severe obesity among adults: United States, 2017–2018. NCHS Data Brief, no 360. Hyattsville, MD: National Center for Health Statistics. 2020.
Top photo: This option by Wallace Flynn Inc's SleepLab Bed supports patients who are up to 750 pounds.