We know that purchasing polysomnography (PSG) systems represents a significant investment for your sleep center. At Philips Respironics, we understand the investment you're making and want you to have all of the information you need to make a true "apples to apples" comparison between systems.
Please use this PSG worksheet as a starting point. We created it to act as a guide on the way to your ultimate decision and help you compare your different offerings. Simply fill out the feature comparison guide to contrast, compare, and calculate your total cost of ownership.
Get the guide by clicking on "Sign up to download," and filling out the short form.
[gate]
Download the comparison guide by clicking on the image below.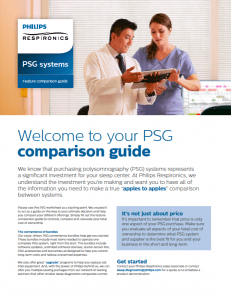 Related: 6 Factors to Consider When Purchasing a Sleep PSG System [Content Sponsored by Philips Respironics]
[/gate]
This free download is sponsored by: