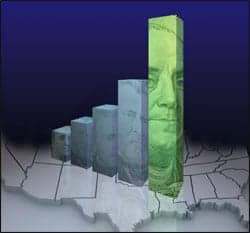 Sleep medicine is a field in transition, and this certainly was reflected in our first online survey of salaries and attitudes about the profession. Along with this came both pluses and minuses for the 699 people who responded to our e-mail requests for help in June and July and filled out the survey in its entirety. Their responses showed that the field's rapid growth and evolution clearly had some negatives, especially when it came to variability in training requirements and salaries from region to region and sleep laboratory to sleep laboratory. However, it also had many positives, including an openness to newcomers looking to both start careers or switch existing careers. A little more than 94% of the respondents to the survey would recommend sleep medicine as a career to others, and even some who would not recommend it as a profession did so only because they were concerned about night shift requirements being unhealthy. "To recommend something implicitly harmful [night shift work] violates the principle of 'do no harm,' " one survey taker wrote.
One of the reasons that our survey respondents were so positive on the outlook of the field may be because people who like their jobs were more likely to subscribe to our e-mail list and respond to survey requests. However, experts in the field that we checked with also said they had found similar enthusiasm for sleep medicine, especially in recent years. Gail Reid, MEd, a nearly 10-year veteran of sleep medicine and program manager for the Atlanta School of Sleep Medicine, said she has seen increasing numbers of people seeking both entry-level and continuing education in the field. "I think it is a terrific time to enter sleep technology," she says.
According to Reid, sleep medicine is at a point where it is really becoming its own distinct medical specialty with formalized training and accreditation. However, the barriers to entering the field are still minimal, and, in many areas, jobs are plentiful. For physicians, board certification in sleep medicine is not yet required to practice in the field. For technologists, requirements vary, but in many states on-the-job training is all that is needed.
A QUALIFIED SNAPSHOT OF THE FIELD
When we conducted our survey, we opened it to all of our readers working in sleep medicine. This included everyone from physicians to technologists to sleep center managers and owners. We were pleased to see that a good cross section of the field responded to our request for information.
The largest group to respond were the sleep technologists. More than a third (291) of the 727 people who responded to the job title question said they were registered polysomnographic technologists (RPSGTs), and a further 14.3% (104) said they were sleep technicians When one added these two groups together—plus the 81 respiratory therapists (RRTs and CRTs) and the eight who were another form of credentialed technologist (R.EEGT/R.EPT/R.EDT, CNIM, CPT, etc)—a full two thirds (66.6%) of the people who responded were in technical roles related to sleep diagnosis and therapy.
Salary Survey Regions

The remaining survey respondents divided up as follows:
25.3% were sleep center directors, managers, or supervisors;
5.6% were sleep doctors (75.6% with an MD, 21.9% with a PhD, and 2.4% with a DDS);
1.9% were sleep center CEOs, owners, or vice presidents;
0.5% were sleep laboratory support staff.
Those who responded to the survey were generally experienced in the field. More than a quarter of those who gave numbers of years in the field answers (26.6%) had been in sleep medicine for 6 to 10 years, 14.7% had been in the field for 11 to 15 years, and a final 20.2% had been in the field for more than 16 years. Only 38.5% had worked in sleep medicine 5 years or less. Not surprisingly, given this level of experience, most of the survey respondents also were older with 61.9% of those giving their age being above the age of 40. Many (21.1%) had been with their current employer for more than a decade, and an additional 19.3% had been with their current employer for 6 to 10 years. However, the majority (45.6%) had been with their current employer for 3 years or less, and 13.9% had been with their current employer for 4 to 5 years.
We also looked at where people worked. The majority of the survey respondents (54.9%) worked in a hospital-owned and operated sleep laboratory. Among the rest, 28.9% worked in an independently owned and operated sleep laboratory, 9.6% worked in a practice-based sleep laboratory, and 6.6% worked in a contract-operated, hospital-based sleep laboratory. Day and night shifts were almost equal with 384 (53.9%) working the day shift and 329 (46.1%) working the night shift.
Regional Base Salaries
by Job Title and Gender

Sleep Physician (MD)
Respiratory Therapist (RRT/CRT)
Registered Polysomnographic Technologist (RPSGT)
Sleep Technician
Missing bars indicate not enough respondents to give accurate results.
TRENDS IN COMPENSATION
One of the complaints we had heard from people in the field was that compensation can vary considerably depending on the region in which one works and one's level of experience. For example, Dan Helmchen, a sleep center management expert and CEO of Sleep Logistics, Las Vegas, said that in his region of the country, sleep technologists are paid $22 to $23 per hour in Phoenix, but this rate drops to $17 to $18 per hour in Las Vegas. For someone starting a sleep laboratory and trying to figure out the budget for staff, this can be challenging, as it also can be for someone entering the field or considering moving to another area of the country. When Helmchen opens a new location for Sleep Logistics, or helps another company start a sleep center, he relies not only on national salary surveys, but also calls around to sleep care providers in the area to get local figures.
In our survey, we found that the region of the country with the highest compensation for RPSGTs was the Middle Atlantic area. Here the average salary was $67,809.81. The lowest was in the West South Central United States where the average salary was $40,514.10. For sleep technicians, the Middle Atlantic area also had the highest average salary ($40,250.46) and the lowest was the East South Central United States ($28,267.64). Among registered and certified respiratory therapists (RRTs and CRTs), the region with the highest average salary was the New England states ($67,333.33) and the lowest was the East South Central United States ($34,000).
For sleep physicians, the most lucrative states were in the South Atlantic region (average salary $212,000) and the least were the Mountain states ($68,000). Among sleep center directors, supervisors, and managers, the best region was the Pacific (average salary $74,025.66) and the worst was New England ($51,252.43). However, it should be noted that the number of responses in these two categories was fairly small, and the data therefore may be less exact. There were insufficient data to come up with good averages for all regions for dental sleep doctors, PhDs, other credentialed technologists, sleep center management (CEOs, owners, vice presidents), and sleep center support staff.
People with more years with an employer and more years of experience did, of course, tend to earn more. Among RPSGTs (the group with the largest data set), people with less than 1 year with their current employer had an average salary of $48,931.70 while RPSGTs that had been with the same employer for 11 to 15 years had an average salary of $73,363.06. In the Middle Atlantic area—the top paying region for RPSGTs—the RPSGTs with more than 16 years in sleep medicine earned an average of $128,940.83, or 90.15% more than the average salary for that region.
How fairly do you think you are compensated relative to experience?

How fairly do you think you are compensated relative to education?

Rated 1 to 5, with 5 indicating very satisfied.
Perhaps reflecting the increase in salary for years with the same employer, the average salary for day-shift RPSGTs ($50,759.52) was slightly higher than that for night-shift RPSGTs ($47,999.77). In many sleep laboratories, coveted day shifts are often given to lead technicians who have been with the sleep center longer. In addition, day-shift technologists often take on additional managerial duties. Among RRTs and CRTs, the average salary for day shift was $48,067.27 and for night shift it was $41,898.86. For sleep technicians, the average salary for day shift was $51,500 and for night shift it was $35,451.63. Finally, other types of credentialed technologists earned $45,666.67 on average for day shifts and $46,666.67 for night shifts. Sleep physicians, support staff, and management typically work days, so we did not compare salaries for day and night shifts for these groups.
Salary by Job Title by Primary Shift

Registered Polysomnographic Technologist (RPSGT)
Respiratory Therapist (RRT/CRT)
Other Credentialed Technologist (R.EEGT/R.EPT/R.EDT,CNIM, CPT)
Sleep Technician
Age was also correlated with higher salaries. RPSGTs between the ages of 26 and 30 earned on average $40,905.19, while RPSGTs between the ages of 51 and 60 earned $56,446.90. Sleep technicians without a credential and between the ages of 26 and 30 earned on average $32,413.87, while those between 51 and 60 years earned $38,055.70. RRTs and CRTs between 20 and 25 years earned $32,500, while those between 51 and 60 earned $51,749.92. For sleep center directors, supervisors, and managers, those between 26 and 30 earned $51,269.23 and those between 51 and 60 earned $61,303.86. Finally, for sleep physicians, those between 31 and 35 years earned on average $158,000, while those between 51 and 60 years earned $165,375. There was insufficient data to draw conclusions about sleep doctors with PhDs, sleep dentists, owners, CEOs, vice presidents, and sleep center support staff.
The most common benefit given was health insurance (87.4% of respondents had this), followed by dental insurance (77.7%), a retirement plan (71.2%), and life insurance (69%). More novel forms of compensation were profit sharing (15.2%) and tuition reimbursement (45.9%). The last one may be particularly important as continuing education units (CEUs) for technologists and continuing medical education (CME) for physicians will become increasingly important in the sleep field as a greater number of national professional standards develop.
Offering education benefits is also just smart business, says Helmchen, whose sleep laboratories support technologists seeking to become RPSGTs by paying for the exam if the technologist passes. As the field expands, payors will be able to be choosier about which sleep facilities they will work with, and, in some parts of the country, they are already implementing policies to only pay for sleep studies done at accredited institutions or at institutions with RPSGTs or boarded sleep physicians. This means that smart sleep centers should invest in getting better trained staff now rather than later. Only 36.5% of the people that responded to our survey said they were currently pursing further formal education.
"Ultimately, it will bring the industry to where it needs to be," Helmchen says. "But it is going to shake out the sleep centers that are not going for hiring expertise."
Satisfaction With Salary by Gender

Satisfaction for women
Satisfaction for men
Rated 1 to 5, with 5 indicating very satisfied.
JOB SATISFACTION
Not surprisingly, people with higher salaries were more satisfied with their compensation than people with lower salaries. On a scale from 1 to 5, with 5 being the most satisfied and 1 the least, those who reported a 5 earned on average $74,495.75 while those who reported a 1 earned on average $42,879.41. The happiest groups were the sleep physicians with MDs and the sleep center directors, supervisors, and managers. Among the MDs, 60% put down a 4 or 5 for satisfaction and the directors, supervisors, and managers were a close second with 57.9%. The unhappiest were the uncredentialled sleep technologists. Here only 33.7% put down a 4 or 5 for satisfaction.
Between the genders, women were slightly more satisfied than men. Just over half of women (50.3%) put down a 4 or 5 for overall salary satisfaction. Among men, only 48.4% put down a 4 or 5.
Salary Satisfaction by Average Salary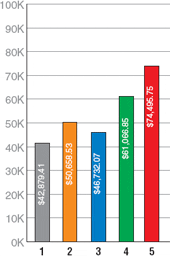 Rated 1 to 5, with 5 indicating very satisfied.
The majority of respondents (82.4%) felt their workload was acceptable, and, in general, the scores for how satisfied people were with their compensation relative to their education and experience were more positive than negative. As one respondent wrote, "I think techs get paid well considering that it is not necessary to get any formal education and it is paid training."
Many people reported that what they found particularly rewarding was how immediately they could make patients feel better. "I've seen grown men cry because they were able to sleep so much better after CPAP therapy. … I love my job!" one respondent wrote.
For some, night shifts and 12-hour shifts that allowed flexibility for personal time were ideal. "For the tech with delayed sleep phase circadian rhythm, aka 'night owl,' this job is absolutely perfect," one respondent wrote. For others, this was one of the negatives of the profession, and some mentioned that working nights could be lonely.
CONCLUSIONS
One of the challenges with a voluntary self-report online survey is getting a true representative sample. In some categories, we got only a limited response. In addition, people who take time to fill out surveys about their profession for free may have various motivations that set them apart. For example, some may be motivated because they are unhappy with their jobs and want to complain, while others may be motivated because they love their career and want to add to knowledge about the field. We saw this in our survey's comment areas where some people raved—"great job," "very satisfying," "I love it," "it is a noble profession," and "sleep medicine is my passion"—while others vented—"pay increases at our facility never offset increases in insurance or cost of living," "PhDs in sleep do not get the benefits nor recognition for their work that MDs receive," and "my position is not clearly defined or manageable."
Therefore, our data should be viewed in the context of other salary surveys, such as the one available for purchase from the American Association of Sleep Technologists (AAST) Web site at www.aastweb.org. However, as a free qualified snapshot of a dynamic growing field, we hope our survey is useful to all those moving sleep medicine into the future.
Lena Kauffman is a contributing writer to Sleep Review. She can be reached at . The magazine thanks all the readers who took the time to fill out its survey.