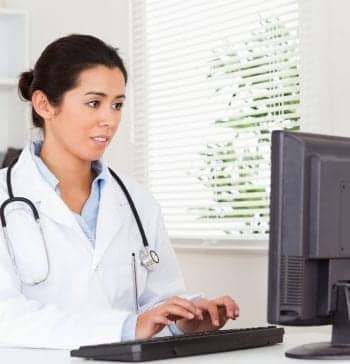 With current Medicare policy requiring patients to meet a minimum level of machine usage for CPAP reimbursement, it goes without saying that any tool that can help patients meet those demands will be welcome in the sleep community. From patient compliance management systems to patient forums, these tools have evolved to take advantage of Web-based technology that gives sleep medicine professionals, and DME suppliers, the information they need to monitor and encourage patient adherence to CPAP.
For companies like ResMed, Philips Respironics, and Fisher & Paykel, embracing technology has allowed them to develop CPAP compliance products that vastly improve the ability of sleep professionals to monitor usage and treatment efficacy, as well as tweak a patient's CPAP therapy to improve compliance.
WEB-BASED SYSTEMS
Taking advantage of Web-based technology, both ResMed's ResTraxx Online and Philips Respironics' EncoreAnywhere include usage and efficacy data, allowing the care team to not only see whether the patient is using their CPAP therapy, but what is going on while they are using it, from mask leak to apneas. Being Web-based, this data is no longer compartmentalized among care team members—everyone has access to the same data at the same time. More importantly, these types of systems streamline compliance monitoring, allowing durable medical equipment companies (DMEs) and sleep labs to manage by exception, focusing on the CPAP patients having trouble—whether it is a nonfunctioning modem or a more complicated issue requiring clinical intervention.
The newest version of EncoreAnywhere includes automatic alerts to notify DMEs when patients have successfully achieved 30 consecutive days at 70% usage, an update that Philips Respironics was able to provide to its customers within 8 weeks of the new CMS guidelines precisely because the system is Web-based. A product like EncoreAnywhere also can be used to monitor resupply of patient accessories, such as notifying a DME when a patient should receive a new mask, to ensure continued compliance.
Through ResMed's ResTraxx Online, home care providers and physicians can view patient therapy statistics to identify and tackle compliance issues early on, helping patients stay compliant with therapy. S9 wireless modules, part of ResMed's ResTraxx Online system, are programmed with a monitoring schedule to transmit data automatically. Remote setting changes are also available to adjust therapy and simplify patient management. A new version of ResTraxx Online has been released that (like EncoreAnywhere) automatically notifies users when patient compliance requirements for Medicare have been reached. ResScan also has this feature. "Sleep professionals will find this feature very useful in simplifying their jobs, allowing them to spend more time helping their patients overcome issues with their therapy," says Luke Maguire, director of healthcare informatics marketing at ResMed.
The advantage of these devices is that the care team can see what's going on with patients and then respond to any issues quickly. "Maybe the intervention is a phone call—we see you're not using it; you have a leak problem; let's talk about your mask and try to make some adjustments to it. [The goal] is to really get that patient in a better position to get better therapy that night and be happier, and hopefully more compliant," says Maura Weis, director of sleep marketing at Philips Respironics.
DATA CARDS
While Web-based tools allow for immediate intervention, compliance tools that use data or SD cards, such as ResMed's ResScan and Fisher & Paykel's InfoSmart, as well as Philips Respironics' EncoreAnywhere, still have a place. These types of systems take advantage of the large storage capacities of current USB devices and cards, and can be used by patients lacking Internet access.
ResScan, which can transport data via an SD card or the company's ResLink module, builds on ResTraxx Online's features by offering the addition of more detailed data, allowing users to choose the level of patient monitoring they need, from trends up to 365 nights to more advanced nightly monitoring where breath-by-breath respiratory flow data can be viewed to help resolve any issues with therapy or settings. Currently, ResTraxx Online and ResScan can work either in combination or individually to meet the differing needs of users, according to Maguire. And as he puts it, "When it comes to data, one size typically does not fit all."
"People who are looking to do more early interventions and monitor their patients remotely and give them assistance early on use ResTraxx Online. People who have more of a traditional system, where they are downloading [patients' SD] cards and getting them to come in for face-to-face visits will use ResScan. [Additionally,] anyone who is interested in providing more detailed data to their physicians or sleep labs will use ResScan," he says.
Philips Respironics' EncoreAnywhere also includes a data card option. Patient compliance data is recorded onto the device's SD card, which is then uploaded to the Web-based EncoreAnywhere or mailed. If prescription settings or other changes need to be made, the updates are recorded onto the SD card, which, when reinserted into the patient's CPAP device, automatically applies the changes.
Meanwhile, Fisher & Paykel's InfoSmart works with the company's SmartStick-enabled devices, which have an "InfoSend" view allowing patients to retrieve sleep data from the display screen of their CPAP device. The SmartStick is then mailed to the patient's care team or the data is downloaded and sent via the Web. The care team then uses InfoSmart software to verify the data. The InfoSend feature also allows the patient to relay data to the care team via a phone call.
Depending on the type of CPAP device used, InfoSmart provides a range of options to report the data including 30 days of detailed efficacy data (including AHI, pressure, and leak), 365 days of summary efficacy data, and a cumulative summary of data from first use. In addition, Fisher & Paykel machines that use InfoSmart provide patients with an interactive notification system that lets them know when they are compliant with the Medicare guidelines. These products are part of an increased demand by care providers for more data and allow for greater "interaction between the doctor, patient, and providers," says Masoud Vahidi, senior project manager, OSA, at Fisher & Paykel.
LOOKING AHEAD
According to Maguire, ResMed is working toward combining the capabilities of ResTraxx Online and ResScan into one online platform. Meanwhile, Fisher & Paykel plans to expand the umbrella of its compliance management products to include the "cost-effective" SmartStick to GSM or wired modem, says Vahidi. The goal, he says, is "a more user-friendly, all-encompassing solution."
Looking further ahead, Vahidi, Maguire, and Weis see patient engagement as a key component in the next generation of CPAP compliance tools.
Maguire sees a place for increasing the amount of information at a patient's fingertips. For patients who are motivated to take an active role in their own disease management, this could be a boon to a patient's care team.
"A lot of the things DMEs are probably doing on a day-to-day basis, in terms of managing their patients' therapy and keeping them compliant, or getting them compliant, could be handled more efficiently if that information could be put into [patients'] hands. The DME would benefit because they can concentrate more on the tricky cases. And patients are going to benefit from it because it gives them information at their fingertips, if they want it," says Maguire.
Weis, meanwhile, sees a role for biofeedback and cognitive behavioral techniques—which have demonstrated success in the management of weight loss and smoking cessation—in future CPAP compliance tools. The point throughout is to enable the patient to understand what is going on with their therapy, to have them feel like they are making choices, and then to give them positive feedback when things are going well. While they might know this instinctively from the fact that they are getting a better night's sleep, sometimes they still need to see that data to know for sure, according to Weis.
CONNECTIVITY
What these CPAP compliance management systems have in common is connectivity—they are keeping the patient and the care team connected during the patient's CPAP therapy. And this connectivity is vital, according to Tracy Nasca, founder and senior vice president of Talk About Sleep Inc, an online resource for sleep disorder patients.
"The common theme with a patient who is not compliant is that they feel alone and abandoned. They don't feel that they have access to their physician. They don't feel they have support or good customer service, if you will, from their CPAP supplier," says Nasca, who was diagnosed with sleep apnea in 1989.
ONLINE EXCHANGE
Further incorporating Web-based technology into disease management, Web sites devoted to sleep health provide an additional tool. From live chat rooms to online forums, patients are able to exchange information with their peers and, in some cases, health professionals, and get an immediate response to a pressing problem on sites like CPAPtalk.com, Michael Goldman's sleepguide.com, and Nasca's talkaboutsleep.com. As Goldman puts it, patients are able to "talk to someone who is authentic—meaning they have been right where you are."
Adds Goldman, who was diagnosed with sleep apnea in 2007, "When you decide to take responsibility for your treatment, you need a community of people who have done the same successfully so you can know the rules for that. That can be done with an excellent physician relationship, but it would take a very special person to mimic a community of 50,000 excited, successful CPAP users."
CPAP compliance tools are also popping up as cell phone apps. CPAPAide is an iPhone application that helps CPAP users manage their machines by keeping track of service schedules, ordering replacement parts, cleaning, or disinfecting items. This past May, ResMed released its Sleep Assessment app for the iPhone that allows users to record themselves during sleep using the microphone built into their iPhone. The app includes a clinically validated questionnaire that assesses a user's sleep apnea risk.
According to Maguire, ResMed's Sleep Assessment app aims to give people a bit more information that might motivate them to see their doctor and get started on the treatment pathway. Down the road, Maguire sees a place for apps aimed more specifically at CPAP treatment and compliance efforts.
"I think a natural progression would be to have some of that information—typical trouble-shooting and educational materials that are going to help people through those first 30 days—available in those sort of modes," says Maguire.
But when all is said and done, CPAP compliance comes down to the hardware—a flow generator, humidifier, and interface—and the patient. And as Nasca points out, all three of these components have inherent challenges.
"If any one of those three components is not working properly, it skews the other two," says Nasca. "So the goal is for the patient to be well-informed about the proper use of each of those components with the goal of all three working together in tandem and properly. Once the patient understands why they have sleep apnea and how to use those three prescribed components, they're armed with the best tools to fight and reach compliance."
Goldman agrees. "It's almost guaranteed that somewhere along the circuit, something is going to make you uncomfortable in some way—it will be too loud or too cold, it will rub you. You're going to need to figure out which of those is preventing you from going to bed and fix it. And if you don't have any tools in your hand to do that or even a conception that those tools exist, then your options are to deal with it anyway and get the benefit [of therapy]—basically suffer—or to give up."
Working together, technological tools can help solve the compliance problem. Armed with the tools that work for them and their care team, a patient has better odds of staying compliant with their CPAP therapy and getting a better night's sleep.
---
Alison Werner is associate editor for Sleep Review. She can be reached at [email protected].