In order to receive better reimbursement from insurance companies, directors should review terms, Current Procedural Terminology codes, and existing cost structures before negotiating.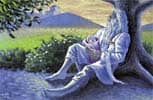 Sleep medicine is one of the very few fields of medicine where reimbursements may actually be improving. When our advisors give lectures on the business practices of sleep medicine, one of the questions most frequently asked of them is: Can you give me further information on reimbursement including coding and billing practices?
Much of reimbursement lies in the early stages of contracting with insurance companies, since Medicare rates are set. Having a dedicated and well-seasoned team of professionals to review existing cost structure and expenses before starting to negotiate contracts is essential. This is not to say that one must have professionals who have experience in sleep medicine services (although that is ideal), but rather have on staff those individuals who know how to contract for any ancillary medical service by analyzing the costs and expenses involved in these types of service. A simplified list of the expenses involved with performing a sleep study may include cost of hardware and software amortized more than 5 years, cost of supplies used in a sleep study (disposable electrodes, and paste), technician payroll, rent and utilities, insurance, transcription services, administrative staff payroll, and interpreting physician fee. In 1994, the American Sleep Disorders Association performed a survey that estimated the total technical expense of running a sleep study to be $558. Broken down, that figure included personnel cost=$357, depreciation=$53, supplies=$58, and rent/overhead=$90. Recently, we at the Sleep Center Management Institute, Atlanta, developed a technical cost structure that was closer to $630, using the aforementioned list of costs (excluding physician fee). The average reimbursement for professional fees associated with sleep services currently appears to be $200. Current Medicare fee schedules will be discussed later in the article to help give some form of comparison. It is essential that billing, collection, and payment policies be described and agreed on by all parties. Once these numbers have been calculated for a specific laboratory and an estimate has been predicted for the number of sleep studies that will be paid by the insurance carrier, the sleep center director has one piece of the puzzle to negotiate profitable contracts with medical directors at the insurance companies.
Reviewing the Contract
The next step is to thoroughly review the terms of the contract. Cost aside, there are other issues involved in the economics of the contract including time frame of services and when (or if) the group can renegotiate rates of service. More specifically, there should be some clarification of the specific Current Procedural Technology (CPT) codes that will be approved for fees and some limit on the authorization processes required to perform services. There should be some mention of which physicians can perform services (based on specialty education) and the process for adding or deleting these physicians when staffing changes occur. A published schedule of rates is usually better than "usual and customary" as well as receiving payment on a fee-for-services schedule until volume in the center increases. Then a detailed timeline for payment will be needed. Try to place insurance verification in the company's hands; this will also help create a paper trail in the case of refusal of payment. There needs to be a mutually agreed on termination period and payment schedule in case there is cause for either side to leave the table. It is also important to recognize that there may be some exclusive dealings and noncompete clauses imbedded in the contracting language, which at first may not be important but later can be crucial.
With these issues in mind, it is also important to recognize that the people with whom you are negotiating these contracts may not always know that much about sleep medicine.
Not many medical directors of managed care companies are up to speed on sleep issues, for either medicine or reimbursement. This makes intuitive sense since they have a great deal of medical issues to contend with on a daily basis and sleep medicine is so cutting edge. It is important to create a working and manageable relationship with each carrier, and sometimes each director or staff member personally. We have made suggestions in the past on educating these people by having "lunch and learn" sessions. In these sessions someone (often the center's medical director) can answer questions, give a presentation, and distribute concise information regarding the center's services and when these services are appropriate. We have been told in the past that the information booklets we have distributed to medical directors have become reference guides for answering questions about sleep services with all the laboratories and centers that contracts with the company. Once the insurance company medical directors and contracting staff are educated, it is time to review and educate the staff about sleep medicine practices.
Coding and Compliance
Coding and compliance industry standards require the expertise of proper coding and billing systems. It is extremely important for the viability of a company to have on staff at least one Certified Professional Coder (CPC). There are two professional associations that certify coders: the American Academy of Professional Coders (AAPC) (offering the CPC and CPC-H [for hospitals]) and the American Health Information Management Association. If one of these people is not on staff, training courses are available and the CPC examination is given every 6 months. You or your staff must be very careful to verify any coding class with the AAPC (a good rule is 18-20 weeks in length) so that the time and money spent will count toward taking the examination. The money a center will save in claims going through the system correctly will far outweigh the cost of properly training one or two of the reimbursement staff. Once they are trained in overall coding practices, it is essential to understand specific sleep CPT codes.
Managed Care
Most managed care plans will cover sleep testing, and most of the fee schedules and coding procedures are based on Medicare policies and procedures. In 1992 the Health Care Financing Administration (HCFA) created a fee schedule under Medicare using already established CPT codes and Relative Value Units (RVUs). This system gives weights to three factors that describe the value of each procedure code including the physician work unit, the practice expense unit, and the malpractice unit. The totals are multiplied by a monetary conversion factor that is determined by Congress. The resulting figure is the Medicare-approved amount for that particular procedure code. It is important to remember that total Medicare RVUs and national Medicare fees serve as a guide but cannot be used for calculating Medicare reimbursement. In order to be compliant, it is recommended that accessing information is made available to physicians and other providers on the Medicare Web site. Local Medicare review policies (www.lmrp.net) are an excellent resource for updating policies. The Local Medicare carriers Web site is also a useful tool for continuing education and upcoming events, and maintains a monthly listing of the most frequently asked questions. More useful information can be found at www.hcfa.gov. Make a note that as of June 14, 2001, HCFA has changed its name to the Centers for Medicare and Medicaid Services.
There are two ways to bill for sleep medicine services. First, physicians who provide services in their office or a freestanding center, and are not part of a hospital, use a CPT code without a modifier, often called a global charge (professional work [interpretation of the study] plus technical component, [practice costs]). Second, in-hospital sleep studies where the hospital bills for the technical component will use a –TC modifier and the physician billing for the interpretation of this study will use the –26 modifier. A –52 modifier is used to record a limited service. Thus, coding for a sleep study will look like either: freestanding laboratory or center, 95810-global full nighttime polysomnogram; hospital-based laboratory or center, 95810-26 (interpretation only), and the hospital bills 95810-TC (technical only). It is important to note that all dictations for interpretations must be dated the same night of the sleep study inception, not the actual date of dictation, or denial of payment is possible.
CPT Codes
From 1996 to 1999, under Congressional orders, HCFA and the American Academy of Sleep Medicine met and redeveloped a Medicare physician fee schedule for sleep testing that defined several types of sleep studies, and recommended a substantial raise in the technical portion of the fee. These recommendations will be completely phased in by 2002. Listed below are the new CPT codes and their descriptions.
95805—"Multiple Sleep Latency Testing (MSLT) or Maintenance of Wakefulness Test (MWT), this involves the recording, analysis, and interpretation of physiological measurements of sleep during multiple trials to assess sleepiness."
95806—"Sleep study-simultaneous recording of ventilation, respiratory effort, electrocardiogram (ECG) or heart rate, and oxygen saturation, unattended by a technologist."
95807—"Sleep study-simultaneous recording of ventilation, respiratory effort, ECG or heart rate, and oxygen saturation, attended by a technologist."
95808—"Polysomnography-sleep staging with one to three additional parameters of sleep, attended by a technologist."
95810—"Polysomnography-sleep staging with four or more additional parameters of sleep, attended by a technologist."
95811—"Polysomnography-sleep staging with four or more additional parameters of sleep, with initiation of continuous positive airway pressure therapy or bilevel ventilation, attended by a technologist."
Additional physiologic parameters for polysomnography include ECG, airflow, respiratory effort, gas exchange (oximetry, transcutaneous monitors, end-tidal gas analysis), limb muscle activity, extended electroencephalography (EEG), gastroesophageal reflux, continuous blood pressure monitoring, snoring, and body position.
Table 1 (page 28) includes a chart with information regarding payment based on RVU changes (starting in 2000 and ending in 2002), which should be implemented by 2002. The 2001 conversion factor is $38.2581, which changes with budgetary reconstruction by Congress.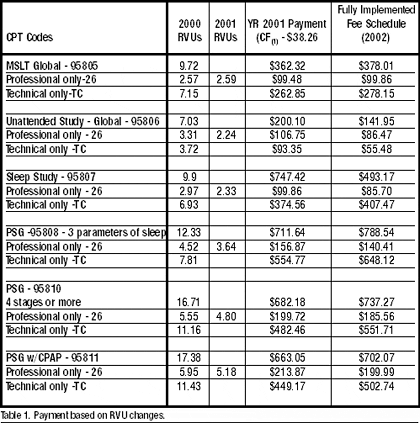 Acceptable payment ranges in many areas are considered to be 115% to 130% of Medicare reimbursables; however, more recent trends across the country have shown many companies working at 85%-90% of Medicare rates. Thus, when contracting, it is not only important to keep in mind the cost structure, but what everyone else (Medicare and any others) are paying for their sleep services.
Criteria for coverage
Once the fees have been established, another important question is: What diagnoses are covered and what are the criteria for coverage of sleep services? Normally, sleep studies are performed in a sleep disorder clinic. These clinics are designed for the diagnosis, therapy, and research of sleep services. Medicare will consider sleep studies reasonable and necessary when performed for the medical conditions listed in this section and when the following criteria are met.
The clinic either is affiliated with a hospital or is under the direction and control of physicians. Sleep studies may be covered even in the absence of direct supervision of a physician. The most current level of physician supervision of diagnostic testing is termed "general supervision" in which the procedure is furnished under the physician's overall direction and control. The physician is still responsible for the training of nonphysician personnel, which includes maintenance of equipment and supplies.
Patients are referred to the sleep disorder clinic by their attending physician and the clinic maintains medical documentation of the orders.
The need for diagnostic testing is confirmed by medical necessity, which is obtained by physical examination, history, and laboratory testing.
Independent Facilities
In 1999, HCFA described an independent diagnostic and testing facility where services could be performed, outside of a hospital or physician's office. The HCFA requirements for a sleep study to be performed in these sites include:
The physician supervisor be board certified in psychiatry and neurology, internal medicine with a pulmonary subspecialty, or sleep medicine.
Technologists must be certified in electroneurodiagnostic testing or registered in polysomnography.
Thus, in order to perform Medicare sleep studies, these requirements must be met.
While it is extremely important to use the correct CPT code for billing of sleep services, it is also important to assign the proper ICD 9-CM code for diagnosis. HCFA defines the diagnosis codes in the "International Classification of Diseases, 9th Revision, Clinical Modification." These specific guidelines are used to standardize coding practices across the United States. The following are diagnosis codes that support medical necessity.
307.3—Stereotyped repetitive movements;
307.44—Persistent disorder of initiating or maintaining wakefulness;
307.45—Phase-shift disruption of 24 hour sleep-wake cycle;
307.46—Somnambulism;
307.47—Other dysfunctions of sleep stages;
307.48—Repetitive intrusions of sleep;
333.2—Myoclonus;
347—Narcolepsy;
518.81—Respiratory failure;
780.51—Insomnia with sleep apnea;
780.53—Hypersomnia with sleep apnea;
780.54—Other hypersomnia;
780.55—Disruptions of 24 hour sleep-wake cycle;
780.56—Dysfunctions associated with sleep stages; and
780.57—Other and unspecified sleep apnea.
It should be noted that under the Medicare guidelines and most managed care plans, the above referenced list of diagnosis codes may be used as primary diagnosis and any diagnosis codes that fall under 290.0 through 319.0 should be used as secondary codes. Most carriers consider these to be mental disorder codes and they are payable at a 50% rate. It should be noted that polysomnography for chronic insomnia is not covered.
Polysomnography Reports
Another important question can be what needs to be addressed in the polysomnogram report. We have found these variables to be the most accepted by the insurance companies and Medicare alike; indications for the study, patient symptoms, current medications, height/weight, referring physician, a narrative of the procedure performed, the data elements of the study itself (durations and latencies, respiratory events, oximetry, limb movements, sleep architecture, snoring, and continuous positive airway pressure [CPAP] variables), and physician impression and recommendations; finally, they all need to end with an ICD-9 code.
At this point, you should have enough information to better understand how to negotiate a better contract and, thus, receive better reimbursement. It may be a valuable exercise to review current contracts for sleep services, and determine if services are profitable. In the next issue of Sleep Review, my column "The Business Practices of Sleep Medicine" will focus on submitting medical claims (electronic and manual), denial of claims, chasing money, and using payment plans and collection agencies.
Michael J. Breus, PhD, ABSM, is a senior partner of the Sleep Center Management Institute, Atlanta; mbreus@sleepcmi.com; www.sleepcentermanagement.com.