What do you want your sleep center or sleep medicine practice to look like in 5 years? A sleep center management expert shares timely advice on how to get there.
In the past, it seemed as if DME and pharmaceutical companies all had their individual "shticks" marketing to our sleep centers and physicians for our referral business. Some were all about bringing lunches for the doctors to get face time with the MDs, while others employed the tactic of trying to influence referral patterns by working on the front desk staff—what I dub the Krispy Kreme Doughnuts approach. (Yes, it's very telling of my marketing expertise at one point in time!)
Back in that day, there were few sleep centers and not a huge need to market our services, so we were on the receiving end. Also, I lived in a "bubble" as I had yet to travel to other geographic areas to teach/learn about how sleep medicine clinics and sleep centers functioned. The more I traveled and learned, the more I understood the need for marketing both the practice and the center. I'd like to outline some of my observations and some important things I learned from professionals in marketing. This is by no means a comprehensive list and it will not work for every situation. I would recommend you grab a highlighter and mark items that you believe would be beneficial for your practice/center in your market/community.
Before purchasing or developing a marketing plan (everyone, it seems, wants to sell one), ask yourself, "What do I want my practice/center to look like in 5 years?" Envision how you want it to be, then start with a step-wise approach. Do not skimp on the numbered items below. This is akin to the foundation of a house; it must be in place prior to putting paint on the walls.
[sidebar] Sidebar 1: Sample SWOT
Campo lists the strengths, weaknesses, opportunities, and threats for a hypothetical sleep center. Click the image for a downloadable PDF of the sample SWOT.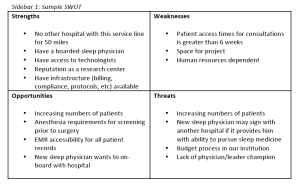 [/sidebar]
Perform a SWOT (Strengths, Weaknesses, Opportunities, and Threats) assessment of the center. Grid this out and look for relationships between Strengths/Weaknesses and Opportunities/Threats. Ensure you have the right people/stakeholders at the table to develop a strategy. See Sidebar 1 for an example. Another good resource is www.healthcaresuccess.com/blog/medical-advertising-agency/swot.html. Time IS money! Study your competition. Determine their marketing strategy. Look closely for differences and think about how you can leverage these differences to benefit your business. What population segments do you serve? Adults only—think adult venues; pediatrics—include child-related entities.
Identify your needs and develop a strategic plan. I recognize there are not enough hours in the day for all the "things" we're required to do. Prioritizing development of your strategic plan needs to be job one. Just do it. There should be no more than five to seven strategic goals. Sidebar 2 contains some sample items.
Develop tactical steps for each area and delineate responsible parties and time frames for implementation. Tactical steps will be reflective of items you covered in your SWOT. Be very purposeful and realistic about time frames. Rome wasn't built in a day. Think systematic.
Have your baseline metrics. At the very least, have a year of data in patients seen, studies completed, payor mix, denials, and contracts with payors. If you want to differentiate yourself from competition, you need to have patient outcomes and they need to be good. CPAP downloads and a data management system are good places to start. It can be as simple as turnaround times for seeing patients, performing tests, and getting on therapy, or as detailed as growth of practice over 8 years and percent compliance of all patients on PAP therapy with leak, 95th percentile pressure, and usage. Measure, measure, measure.
Develop the budget. It's not sexy but it's near the top of the list in importance. Your team will need to have money set aside for lunch and learns, photocopying handouts, travel expenses, and salary of marketer. Return on investment (ROI) will depend on knowing where you are today and comparing that to where you are at a point in time in the future.
[sidebar] Sidebar 2: Sample Goals and Tactics for Strategic Plan
In this example from Campo, she details two sample sleep center marketing initiatives, including the champion, team, timeline, and status. Click the image for a downloadable PDF of the sample goals and tactics.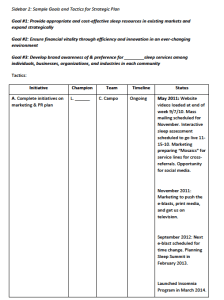 [/sidebar]
If you work independently of a large healthcare system, you will not have as many resources to "seemingly" draw upon as those competitors within large systems. The competitive advantage may not be as large as you think as those working within a system often have trouble accessing these resources. Many other service lines are competing for the limited dollars given to marketing departments! You may find your clinic/center virtually on your own.
You say your marketer is reporting that all the doctors he sees say they are referring all of their patients already. Your data supports that, but the harsh reality is that you need to grow your referrals. It's time to look at nontraditional referral sources.
Do Your Homework
Look at OB/GYN practices, endocrinology, pediatrics, cardiology, surgery, or sports medicine! There is mounting evidence that undiagnosed sleep issues impact neonatal and maternal health. OB/GYN physicians are looking for and receptive to information on how they can improve their patients' outcomes. If your practice welcomes pediatrics, then patients, providers, and centers benefit. Differentiate and market it. Everyone remotely familiar with sleep medicine is aware of the association between Type II diabetes and sleep, as well as the morbidity and mortality associated with specific cardiac statuses and sleep-disordered breathing. Sports medicine??? Now is the time to meet with those physicians as so much more information about football players and poor sleep is in the news (the national media is helping you here!) and is being empirically studied! Don't forget about bariatric medicine and psychology/psychiatry. Developing cross-referral pathways between specialties is very important. I'll give it to you that it can be political, but there are always ways to avoid hot piles. I developed a tool that is used by the patient in any physician office and that takes the screening process out of a physician's hands. Additionally, there are appropriate and legal ways to help anesthesia refer out without having to follow the patient.
You may be overlooking a very important constituent—the hospital executive. With the advent of penalties for readmission of patients with several key diagnoses, hospital executives are looking for any edge they can find to reduce costs associated with readmission. Congestive heart failure (CHF) and COPD are at the top of the list. Develop a maximum nine-slide presentation explaining how early identification and proper treatment of sleep-disordered breathing can positively impact readmissions, then beg, borrow, or steal to get face time with that leader to show them what can be done.
Market Directly to Patients
Every patient wants to have the best doctor for the lowest cost. Period. The thing we cannot control is the patient's payor, so we'll throw that out of the mix for now. We've all heard word-of-mouth is the best referral and I say that is probably accurate. Word-of-mouth referrals are limited pretty much to a confined geographic area and certainly to a confined social area. Almost every consumer with any technology savvy is going to do a little research on the Internet. Having an expert presence on the web will get and solidify referrals but also will cast a wider net virtually nullifying social circles as well. Expert-level web presence will have to include a website, perhaps a blog, and some sort of search engine optimization in order to have the site pop up at the top when specific keywords are searched. The information posted needs to be updated frequently in order to maintain freshness and interest of patients who may scroll for as many as 10 to 15 times before taking action.
IT (Information Technology) Is Your Friend
If you are in a healthcare system or even a large multispecialty practice, get your friends in IT to run a query of the patient database. Identify the ICD-10 codes for patients with comorbidities associated with sleep disorders. Stroke, CHF, A-fib, Type II diabetes mellitus, depression, and obesity. If you are part of a very large system, you will want to have this information further segmented by zip code so you are marketing to your geographic location. Once you have this database, you can develop your e-blasts or snail-mail marketing materials to be delivered to consumers who actually need the information for themselves. The added benefit is this information is hitting fertile ground (the patient's understanding of symptoms), and patients are more likely to remember and pass this along in their social circle. We had our physicians each take a turn writing an e-blast for distribution to the system's patients. These were timed to coincide with daylight savings time changes each year as well as back-to-school and end-of-school activities.
Social media must be seriously considered. Many folks in healthcare have an aversion to social media as they do not want to have a presence anywhere near a format that can be so closely associated with divulging patient information. We have to get over this fear and use these opportunities in a purposeful way. Developing "suggested posts" and getting them on Facebook, Twitter, LinkedIn, and other such sites is an incredibly easy way to grab consumer attention and bring/link that consumer back to your website. Quick tidbits and headlines from Sleep Review can elicit responses and calls to action that can be fleshed out on the expert's website.
It may sound corny but do NOT underestimate the impact of one (exceptional) person getting up before a group of folks and talking about sleep. I'm talking about the exciting and remarkably beneficial experience of the church group…or the Rotary club…or the PTA. Regarding the church group or the PTA, you are talking about the attendee who makes all the healthcare decisions for the family…Mamma. At Rotary or Elks, the audience will be different but can be just as lucrative. Prepare to deliver a 40- to 45-minute humor-filled explanation of sleep. Spend 20 minutes on what is normal and the next 25 minutes on the abnormal. Plan on spending 2 hours in total; you'll need it. Everyone wants to talk about sleep. Provide them with the opportunity to do it without sounding clinical like a doctor and they will eat out of your hand. If you're talking to a group mostly of women, start talking about their husbands. If it's mostly mothers, hit on behaviors of children associated with poor sleep (hyperactivity and school issues). Do not come empty-handed. I always bring American Academy of Sleep Medicine brochures that I select for the audience and my modified STOP-BANG that everyone can fill out and take to their own doctor…but they all want to talk to my doctors. Having business cards with clinic and center phone numbers and addresses makes things work so much more smoothly. Having a special "priority code" on the card for when they make their appointment gives our front-desk folks the ability to identify that the patient came from one of our events. I did one of these events last year and got FIFTEEN appointments (nine sleep studies) directly. There were 60+ in the audience so that is a 25% response. ROI = $21,000 in revenue (E&Ms plus sleep studies) less my hourly wage and expenses $400. Nice.
Compare that ROI to the one we achieved with a billboard; $5,000 for 1 month in a super location heading into Charlotte, NC. We believe we had three appointments. Let's just assume that is factual and they were level V E&Ms and each resulted in a sleep study. $6,750. Hmmmm… Hard to measure and not a good ROI.
I do caution you against marketing at health fairs for several reasons. My personal experience is health fairs are labor intensive and costly (you must have a giveaway, drawing, or other "hook" at your table to get folks to even stop by), especially if you are at large fairs. If you are a sleep provider and get involved in a company-sponsored fair, determine if that company employs a large number of drivers (who tend to avoid anything to do with sleep as it could impact their means of making a living). My personal experience was that the drivers saw we were sleep and ran in the other direction! I spoke with the sponsors of this event and shared that if they wanted sleep involved, they may want to do some groundwork with the drivers beforehand. If you are selective about the ones you participate in and opt for smaller venues, you will likely see better results.
To conclude, marketing can be as simple as making the rounds with Krispy Kreme Doughnuts. You'll get some business but the next person who comes down the road with a full rack of ribs will also get the business. To be effective and sustainable over time, a clear plan and tactical steps need to be in place and implemented in a purposeful fashion. It is amazing how fast 5 years pass!
Carolyn Campo, MA, RPSGT, RRT, obtained her Masters of Arts in Psychology with a specialization in Health Psychology from National-Louis University in Chicago. She began her career in healthcare with obtaining her credentialing (Registered Respiratory Therapist) and worked in the field of respiratory care. At the beginning of this millennium, she moved into sleep medicine and has directed several sleep centers as well as taught sleep technology across the United States. Campo most recently was director of sleep operations for Novant HealthCare based in Charlotte, NC, and currently is principal with Carolyn Campo Consulting: C3.