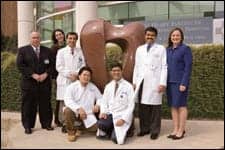 St. Luke's staff puts quality care first. From left: John S. Sabo, MS, RN, RRT; Kara Melancon, BBA; Ali Al-Himyary, MD, MPH, FCCP; Tony Alidon, RPSGT, CRT; Prasad Manian, MD, FCCP, DABSM; Suresh Daniel, MD; and Tammy Wiggins, RRT, RPSGT.
In 2002, experts estimated that approximately 1.17 million polysomnograms were recorded in 2001 in the United States and that there were 1,292 sleep laboratories in the country, most of which were unaccredited by the American Academy of Sleep Medicine (AASM).1 Today, there are at least twice that many US sleep laboratories.2 But how many have the staying power to deliver high-quality care, gain accreditation, and keep their doors open? The growing sleep industry is luring entrepreneurs and health care professionals alike. But in the long run, those who will succeed are those who make a genuine commitment to quality. The St. Luke's Center of Sleep Medicine at St. Luke's Episcopal Health System in Houston is a model facility that is living up to its promise to deliver high-quality patient care.
"Our long-term goal is to provide leadership in sleep medicine at the local, regional, and national levels," says John Sabo, MS, RN, RRT, administrative director of St. Luke's Center of Sleep Medicine. Indeed, the facility and its team are steadily moving toward its goals of gaining additional accreditation for its newest site, instituting a sleep fellowship at the Baylor College of Medicine (BCM), and spearheading new research, particularly as it concerns the link between heart disease and sleep disorders.
All the Right Moves to Realize a Mission
Experts believe that as many as 70 million people may suffer from a sleep disorder.3 In response to this large potential patient population, St. Luke's, together with BCM, is addressing the broad spectrum of sleep disorders. Its team of experts includes 12 diplomates of the American Board of Sleep Medicine (ABSM) who specialize in various disciplines, including pulmonary medicine, neurology, and psychiatry.
The St. Luke's sleep program is a collaboration between St. Luke's private medical staff, BCM, and the Kelsey Seybold Clinic. While, in large part, the sleep center's operations and administrative functions are centralized, St. Luke's actually comprises three separate sleep laboratories—the Texas Medical Center, the Kirby Glen facility, and The Woodlands laboratory. In August 2006, the Texas Medical Center and the Kirby Glen facility together became the 1,000th AASM-accredited center. The two sites also hold a special designation locally. "Presently, we have the most accredited beds in a single institution in Houston," says Tammy Wiggins, RRT, RPSGT, the laboratory manager.
St. Luke's is unlikely to lose that status anytime soon, and the team hopes to gain AASM accreditation for its Woodlands facility in the very near future. "It is just a matter of time before our Woodlands facility receives accreditation," says Prashad Manian, MD, director of the sleep program at St. Luke's. "One of the advantages of being a large facility is that policies and protocols are already in place. Our scoring is centralized. So, it is really just a matter of paperwork at this point."
While the sleep program is spread throughout three facilities, it functions as a singular operation. "We look at St. Luke's Center of Sleep Medicine as one big lab of 16 beds versus different sites," Sabo says.
Speak with Tony Alidon, RPSGT, CRT, lead technician and supervisor at St. Luke's Center of Sleep Medicine, and you get a picture of just how far the sleep program has come. Alidon has been employed at St. Luke's for some 15 years and has watched it grow.
"We started as a portable lab within the hospital," he says. "Over the years, we grew to a two-room facility, then four rooms, and now, we're a three-facility, 16-bed, cutting-edge lab."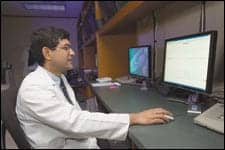 Medical Director Prasad Manian, MD, is also focused on research.
What sets St. Luke's apart, according to Alidon, is both its people and technology. The combination adds up to a quality of care that is rare in the industry. "In addition to our board-certified sleep physicians, all of our 17 techs are registered respiratory technicians, which is highly unusual," he says. "We have a higher standard here. We take pride in the education of our people, and the result is better patient care."
Indeed, many laboratories require only minimal training when hiring technicians. This is not the case for St. Luke's. "Our administrative director, John Sabo, insisted that all of our techs also should be registered respiratory technicians," Manian says. "We're one of the few labs that has set this as a recruitment policy. It raises the quality of patient care."
When it comes to patient care, equipment is key, too. At St. Luke's, advanced technology is a priority, and the group requires that the technology is consistent at each facility. Alidon says that cutting-edge video capabilities are critical. St. Luke's uses a "page back" system and requires archiving of all footage.
"We score during the night but sometimes need to look back and determine what is happening at a given moment," Alidon says. The St. Luke's page-back system allows the team to archive the entire sleep study—from starter study to end study. "Our system is very thorough," Alidon says. "It protects both parties from liability issues and also helps us have a comprehensive understanding of the patient's symptoms."
Maintaining equipment is also vital to the success of any sleep laboratory. Alidon says that keeping equipment functioning properly requires good communication between all parties. On a daily basis, he ensures that the equipment is working at top capacity.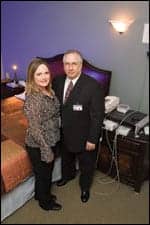 John S. Sabo, MS, RN, RRT, and Tammy Wiggins, RRT, RPSGT, insist on advanced training when hiring technologists for St. Luke's.
"I go in every morning and talk with the techs to find out if there were any problems with the equipment during the night," he says. "When there is a problem, I work with my staff and vendors to resolve it quickly and efficiently. All of this ensures that we are providing quality care to the patient."
Most importantly, Alidon says, is the commitment to patients. The team is dedicated to fast turnaround of results and satisfying both patients and referring physicians. The St. Luke's team prides itself on delivering a sleep study report within 1 to 2 days.
Over the years, the St. Luke's Center of Sleep Medicine has grown and changed for the better, says Surish Daniel, MD, co-director of the Kirby Glen facility. Last year, St. Luke's conducted close to 3,000 sleep studies. Alidon projects that the organization—between its three facilities—will have the ability to conduct more than 5,000 studies annually.
Best of all, the team is dedicated to an interdisciplinary approach to sleep. While most sleep laboratories focus on OSA—and St. Luke's is no exception, with anywhere from 70% to 90% of studies aimed at diagnosing and treating OSA—the team is committed to diagnosing and treating insomnia, narcolepsy, and restless legs syndrome as well.
Consider, for example, the group's work with insomnia patients. "We offer a strong component for the treatment of insomnia without medications, but rather through cognitive behavioral therapy," says Michael Vincent Abene, MD, medical director of St. Luke's Sleep Lab—Texas Medical Center. "Research shows that in the treatment of insomnia, cognitive behavioral therapy alone works better than medication alone or cognitive therapy and medication combined." Abene sees four to five new patients a week, and about half them have insomnia.
"Most often, insomnia is the result of a number of problems, including anxiety, depression, and stress," Abene says. "Moreover, the symptoms can include sleep disturbances plus irritability and memory problems." The goal, according to Abene, is to better understand insomnia and work toward new treatments and improved outcomes.
Advancing the Field
In addition to providing quality care to every patient, the St. Luke's team also is focused on achieving two additional goals: establishing a fellowship in sleep medicine at Baylor and conducting research studies.
"Presently, there is not an accredited sleep fellowship in place at Baylor College of Medicine, but rather a training program that has been around for some 10 to 12 years," Manian says. "However, we are working to implement an accredited fellowship program, which will only add to our credibility and our ability to execute important research studies."
Manian and Daniel are excited about the organization's research possibilities. "St. Luke's Hospital has a certain cachet," Manian says. "It is considered one of the best-run hospitals in Texas. In addition, St. Luke's is a leader in heart medicine, ranking among the top 10 heart hospitals in the nation."
This places St. Luke's in a good position for conducting valuable studies in the field of sleep medicine. "We have a big group of heart patients readily available for extensive research studies," Manian says. "In addition, we have the ability to partner with St. Luke's well-trained cardiologists who are already familiar with caring for these patients."
While others have conducted studies on the link between cardiology disorders and sleep, St. Luke's plans to take this research further. One immediate goal is to conduct a large-scale study on the beneficial effects of CPAP therapy on cardiac function in sleep apnea patients. Manian says that the St. Luke's study will aim to collect results from a larger number of patients than previous studies.
Daniel adds that the group is focused on esophageal manometry research as well. "With sleep apnea studies, there can be wide swings in pressure, and in a certain percentage of patients the condition may not be evident through a standard study," he says. "In other words, patients with mild apnea may be misdiagnosed. This probe could identify such patients, but right now it is not commonly performed."
A Promising Tomorrow
The team at St. Luke's estimates that 80% of the sleep apnea patients they diagnose and treat remain compliant because the team is focused on delivering the best possible patient care and educating patients about their conditions. "Patients expect quality," Manian says. "At St. Luke's, we stand for quality. There are approximately 10 sleep labs within a 5- to 10-mile radius of us. But many of them will not last."
St. Luke's Center of Sleep Medicine appears to have staying power, and the group plans to continue to expand. "We've created a solid infrastructure," Sabo says. "Our long-term goal is to open more satellite labs throughout the city and suburban areas." Ultimately, the multiple locations will be linked to one hospital, one program, and a singular reputation: quality. That's the living legacy of St. Luke's.
Marianne Matthews is a contributing writer for Sleep Review. She can be reached at .
References
Tachibana N, Ayas NT, White DP. A quantitative assessment of sleep laboratory activity in the United States. AASM Bulletin. 2002;9(2):26-28.
Frost & Sullivan. US Sleep Service Provider Markets. 2005;No. A811-56:2-1.
Colten HR, Altevogt BM, eds. Sleep Disorders and Sleep Deprivation: An Unmet Public Health Problem. Committee on Sleep Medicine and Research of the Board on Health Sciences Policy. Institute of Medicine of the National Academies. Washington, DC: National Academies Press; 2006.