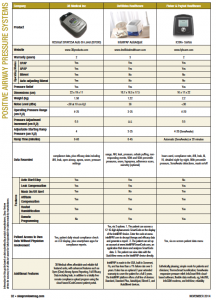 Compare 7 positive airway pressure (PAP) options side by side. Click on the thumbnail or "PAP Comparison" to view the full matrix at a legible size. Sleep Review's matrix compares features such as warranty, operating modes, and dimensions for the following products: 3B Medical Inc RESmart BPAP25A Auto Bi-Level, DeVilbiss Healthcare IntelliPAP AutoAdjust, Fisher & Paykel Healthcare ICON+ Series, Human Design Medical LLC The Z1, Philips Respironics System One REMstar Auto, ResMed AirSense 10 AutoSet for Her, Somnetics International Inc Transcend Auto.
A version of this comparison guide appears in the November 2014 print issue. If your company is missing, please e-mail editor Sree at sroy@allied360.com so you can be considered for the next update.
Find out about the latest product releases at www.sleepreviewmag.com/products.