Metamason Inc, a healthcare-focused 3D scanning and 3D printing company, has closed a $3 million Series Seed financing round.
The raise was led by 3P Equity Partners, a manufacturing-focused private equity firm located in San Jose, Calif; and Tsing Capital, a China-based cleantech venture capital firm. The round also included a collection of individual angel investors throughout the country.
Metamason founder and CEO Leslie Oliver Karpas says in a release, "We are thrilled to reach this important milestone for the company. Our investors are confident that Metamason will be a disruptive, positive force in the $4 billion global sleep apnea market."
According to COO/CFO and co-founder Cliff Sarkin, Metamason will use the seed investment to complete FDA regulatory clearance and run initial clinical trials for its patent-pending flagship product, Respere—a custom fit, 3-D-printed CPAP mask.
The company also plans to execute a crowdfunding campaign later in 2016 and begin marketing activities in early 2017.
"We're not just selling a product," says Karpas. "We want to give patients and providers direct influence over the creation of objects that profoundly affect their lives."
CPAP, he says, is a good place to start. "Despite CPAP therapy's proven efficacy, over half of patients quit because of discomfort due to poor fit of their masks," he says.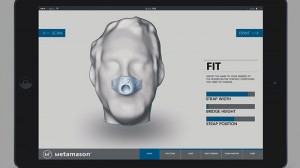 Projected to become publicly available in Q2 2017, the Respere mask uses Metamason's Scan·Fit·Print platform to incorporate digital scans of the patient's face using a proprietary design algorithm, generating a CPAP mask that comfortably fits each patient's unique facial topology. Each Respere  product will be produced on demand, 3-D-printed from soft medical grade silicone.
"Many people suffering from OSA can't remember the last time they had a good night's sleep," Karpas says. "Mass-produced masks fit poorly because every human face is different. Metamason empowers patients through curated personalization. It's our goal to improve lives by transforming the CPAP experience."
In October 2015, Metamason won the startup pitch competition at Inside 3D Printing Santa Clara, and in March of this year, the company was chosen as one of five finalists for the SXSW Interactive 3DIY Innovation Award, garnering a flurry of positive press and being named one of "6 Cool Innovations That Are Making The World A Better Place" by reason.com.
Additionally, as a company that "leverage[s] exponential technologies to address humanity's grand challenges," Metamason was recently accepted into the Singularity University (SU) Startup Network. Now an SU Labs portfolio company, Metamason is poised to benefit from the resources and mentorship provided by the respected Silicon Valley think tank and research institution. "We're honored by the support of our investors and advisors—and galvanized by the outpouring of interest and enthusiasm from sleep doctors and patients," says Sarkin, noting that the company has already begun expanding its team of designers and engineers, and is celebrating the opening of its new headquarters in downtown LA.