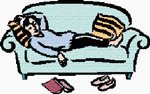 Supply Catalog
A 54-page recording supplies and accessories catalog for PSG, EEG, LTM, EMG, EP, and IOM is now available for free from Grass Instruments, an Astro-Med Inc product group based in West Warwick, RI. The catalog contains information on the company's line of recording supplies and accessories, as well as ordering information, pricing, and descriptive copy on how to use the company's recently enhanced online store. In addition, the catalog contains EEG/PSG educational material, including books, training videos, and CDs. (877) 472-7779.
---

Sleep Aid
Hivox Biotek Co, Fremont, Calif, introduces the Dreamate, a watch-like device that uses biofeedback techniques to rebuild the user's biological clock and train the wearer to relax and sleep more soundly. According to medical studies, it can offer insomniacs as much as 78 additional minutes of sleep, the company says. Users wear the unit on the inner left wrist for 30 minutes prior to going to bed (for a period of approximately 2 to 4 weeks). The unit issues a double-frequency massage to simulate Chinese acupuncture points. (626) 855-1600.
---

Full-face Mask
ResMed, Poway, Calif, introduces the Ultra Mirage™ full-face mask designed to stop mouth leak. Like all Mirage® products, the full-face mask features dual-wall cushions to reduce pressure on the nasal bridge. This unit also features a forehead support with four position options to minimize mask movement. It offers quick-release headgear clips, and once the headgear is set up, it does not need to be readjusted each time the mask is used. A safety valve in the mask elbow allows patients to breathe fresh air when the flow generator does not provide airflow. The Ultra Mirage offers minimal dead space and features built-in air vents to reduce CO2 rebreathing, even at low pressures. Multi-patient and multi-use, the full-face mask allows for chemical and thermal disinfection for up to 15 cycles of cleaning. (800) 424-0737.