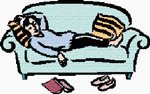 Ambulatory Monitoring Inc Installs New President
Ambulatory Monitoring Inc (AMI), Ardsley, NY, recently announced the appointment of its new president, Thomas Kazlausky, MChE, who brings to his new position 18 years of experience as product manager and vice president of AMI. Kazlausky will be assisted by Linda Tavolacci, BSW, who has worked with AMI as administrator and coordinator of advertising and exhibits for 24 years. Under its new management team, AMI will continue its 34-year reputation as an industry leader by providing quality equipment for physiological and environmental monitoring. The team looks forward to continuing to serve the medical community and participating in the growth of actigraphy as a clinically useful tool.
---
New Sleep Assessment Tools
An effective assessment tool for the diagnosis and treatment of insomnia has recently been developed by Richard K. Bogan, MD, FCCP, DABSM, chief medical officer of SleepMed Inc and the medical director of SleepMed of South Carolina, and his clinical associate, Jo Anne Turner, RN, MN, CS, who is a nurse practitioner in his sleep medicine practice. The assessment tool for sleep disorders, called the SleepMed Insomnia Index (SII), is a 10-item questionnaire that differentiates and quantifies a subject's insomnia component and allows quick assessment of outcomes of insomnia management.
The Sleep Vital Signs Matrix is a visual screening tool that combines the SII with the Epworth Sleepiness Scale. The Sleep Vital Signs Matrix complements the SII by providing results that can assist the clinician in determining diagnostic and treatment options. By broadening the scope of assessment and outcome measurement, it more easily detects insomnia so that effective treatment can be initiated to improve quality of care.
---

Integra NeuroSupplies Hires New Product Manager
José Elguera joins Integra LifeSciences, Plainsboro, NJ, as product manager, NeuroSupplies and Spinal Specialties. Elguera, who previously grew Stryker Latin America Instruments and bone cement divisions from $4.2 million to $6.3 million in 2000, brings 8 years of surgical device experience and multilingual fluency in English, Spanish, French, and Portuguese. As product manager, Elguera will be responsible for the NeuroSupplies business aspect. "I am excited to work with Integra NeuroSupplies and with our customers to continue to provide the best service we can give," Elguera says.
---
Sleep Solutions Aids National Sleep Apnea Program
In response to the growing number of adults needing access to affordable testing for OSA, Sleep Solutions has announced a new grant program in association with Awake In America to provide free diagnostic testing services to qualified individuals who are without sufficient financial or insurance resources. "Traditional sleep studies to diagnose apnea can cost up to $2,500 per test," says David F. Jackson, national coordinator for Awake In America. "Some patients travel long distances and take time off from work; in the case of 2-night sleep studies, they and their families face transportation, hotel, and meal expenses."
Sleep Solutions will donate its clinically validated at-home testing services in support of Awake In America's "CPAP Donation and Relief Program," designed to accelerate the diagnosis and treatment of OSA. The organization's comprehensive initiative is aimed at helping individuals with limited resources obtain essential equipment to treat sleep apnea. "We are proud to donate our services in support of Awake In America," says Michael J. Thomas, president and CEO of Sleep Solutions Inc. "This program presents another opportunity to help men and women understand the risks of sleep apnea and to get tested if the symptoms appear. The donations we are making will help even more people with this serious condition."
---

InnoMed Appoints New CEO
InnoMed Technologies Inc, Greensburg, Pa, has named Sanjay Chandran as its new CEO. Previously, Chandran was a senior executive with GE Healthcare, where he grew a medical devices business from $11 million in annual revenues to more than $40 million in just 3 years. As part of his duties at InnoMed, Chandran will assist in running Mergenet Medical, a technology incubator. "I'm excited to lead this innovative company in such fast-growing markets like sleep apnea and respiratory care," Chandran says. "With cutting edge products, engineering expertise, and excellent customer relationships, we are very well positioned to grow 40% to 50% a year for the foreseeable future."
---
ResMed Appoints Two Independent Directors
ResMed Inc, Poway, Calif, recently appointed John Wareham, chairman and CEO of Beckman Coulter, and Ron Taylor, founder of Pyxis Corporation, to its board of directors. Before joining Beckman Coulter in 1984, Wareham was president of Norden Laboratories Inc. Taylor is a director of Watson Pharmaceuticals Inc and WestCoast Hospitality Corp and is chairman of the board of three privately held companies: 3E Company, EMN8 Corp, and Asteres Inc.