Georgia Tech researchers have created a wearable device to accurately measure obstructive sleep apnea, as well as the quality of sleep people get when they are at rest.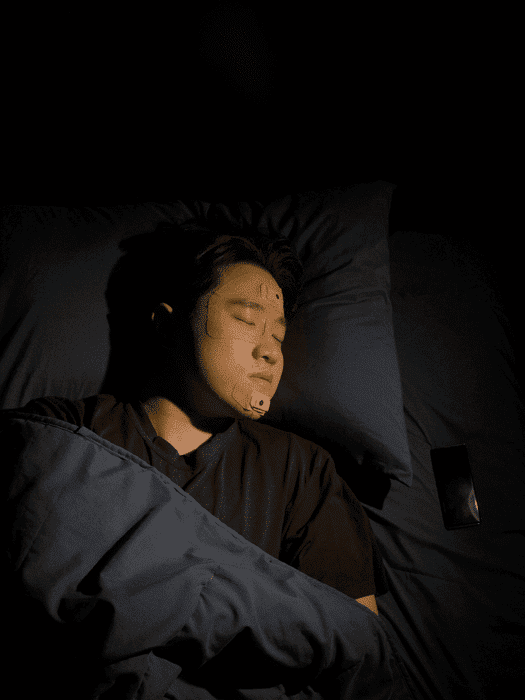 The wearable sleep monitor patch—developed by a team of researchers and clinicians, led by W. Hong Yeo, PhD, an associate professor and Woodruff Faculty Fellow in Georgia Tech's George W. Woodruff School of Mechanical Engineering—is made of silicone and fits over the forehead, with a second, smaller silicone attachment that molds to the chin.
"A lot of people have this disorder, but they don't know it because it's very hard to diagnose right now," says Yeo in a release. "Current smartphone apps don't capture the specific data doctors and clinicians study to determine if a patient has apnea, rendering them useless."
Yeo and his team, which included researchers from across Georgia Tech, Emory University School of Medicine, the University of Texas at Austin, the Icahn School of Medicine at Mount Sinai in New York, the Korea Institute of Materials Science, and the Korea Advanced Institute of Science and Technology, reported their findings in Science Advances.
The patches—which have an accuracy rate of 88.5% for sleep apnea detection—have the thickness of an adhesive bandage. Three embedded electronic sensors send signals wirelessly via Bluetooth to record brain, eye, and muscle activity. That data is relayed to an app on a smart device such as a phone or tablet for further study and evaluation. The device can be used at home.
Yeo, whose research is centered primarily in advancing healthcare through the development of biosensors and bioelectronics, says in a release, "In the US, more than 18 million people have this type of sleep apnea. That's basically one out of every 15 Americans, and those numbers are increasing over time."
Using artificial intelligence and machine learning, the technology behind the wearable device records the data to give a sleep score that determines if the patient has sleep apnea or if they are getting enough quality sleep.
In the study, when measured against a controlled group of eight sleep apnea patients whose issues were detected under conventional testing means, Yeo's wireless patch detected sleep apnea with an accuracy rate of 88.5%.
What's more, the technology Yeo and his team developed, and the machine learning algorithms used, can predict the likelihood that a person who doesn't show any symptoms of sleep apnea will develop it at some point.
"By looking at the data, we can say that, if you don't change something right now—whether it's diet or sleeping behavior or anything like that—you're likely to develop sleep apnea because your numbers are bad," says Yeo in the release.
Photo caption: The sleep apnea patches—which have an accuracy rate of 88.5% for sleep apnea detection—have the thickness of an adhesive bandage.
Photo credit: Georgia Tech