Welltrinsic Sleep Network, SleepMed Physician Network, Sleep Impressions, Sleep Apnea Patient Centered Outcomes Network, and Nierman Physician Referral Program launched in 2014. We check in for current enrollment, accomplishments to date, and goals for the remainder of 2015.
Nierman Physician Referral Program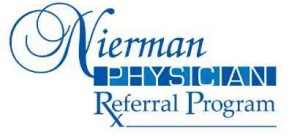 Membership open to: Dentists and MDs
Current membership: 22 (21 of them dental practices)
Launched: October 2014
Cost to join: $750 setup; $1,250/month.
Mission: Help facilitate the communication between medical professionals to provide valuable opportunities to form relationships and connections, so that more patients can get the treatment they need for obstructive sleep apnea (OSA).
Funding: Membership fees.
Membership benefits:
The program allows offices to save time and money by having Nierman do the initial work for them, so they can concentrate on what matters most, their patients.
Develop and mail monthly customized newsletters to local medical professionals and make the initial phone calls to those medical professionals to get the conversation started.
Through monthly webinars, members and their teams are able to learn from industry physicians and staff about what they want out of a referral relationship.
Practices will also benefit from an increase in possible revenue from new patients being treated as a result of them building new referral relationships.
Biggest accomplishments to date:
Reached out to over 3,000 physicians for 22 members.
382 medical professionals have called back to discuss building a referral relationship.
36% of those who called back turned into face-to-face meetings.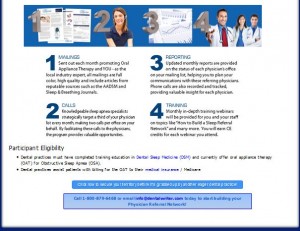 Goals for remainder of 2015:
To reach 15,000 medical professionals across 100 key US cities to facilitate connections and grow referral networks for members.
Facilitate over 2,000 face-to-face meetings for our members.
Advice for current members: Ensure each team member is educated and trained on the program details. Anyone answering the phones should know the goals of the program when a physician's office calls back: Is it to set up a lunch meeting, a dinner, to invite them to an open house, to send over a packet of information, or schedule a time for the medical professionals to speak with each other? The first call can make or break a relationship; ensuring every member of the team is trained is vital to the success of the referral relationships.
Sleep Apnea Patient Centered Outcomes Network (MyApnea.Org)

Membership open to: People with, or at risk of, sleep apnea and their caregivers
Current membership: 2,837
Cost to join: Free.
Mission: To improve the diagnosis and treatment of sleep apnea through the active engagement of patients, families, researchers, and healthcare providers in a community that facilitates patient-centered research.
Funding: Patient-Centered Outcomes Research Institute (PCORI)
Membership benefits:
Provide members the opportunity to share information and advice about living with sleep apnea with each other.
Support patients with "how-to" information and other educational resources.
Present the latest in sleep health news and research findings.
Give patients a voice in what health outcomes are important to them.
Opportunities to win monthly lotteries for a $250 Visa Gift card.
Biggest accomplishments to date:
Launched MyApnea.Org, with new tools and features being added monthly. Initiated data collection through 3 initial online baseline surveys, which contain key elements in the common data model and provide patient feedback. Began collecting research ideas through a "Rank The Research" tool. Established a provider sign-up page, an education page, and a moderated forum.
Implemented "soft launch" plan with partner outreach, blog postings, social media, eblasts and dissemination of postcards and fliers; trade media hits.
Continued to sign up "sleep champions" around the country to promote the site.
Cemented organizational and corporate partnerships (9) and formalized partnerships with several new ones and trade media outlets (4).
Formalized governance, enrollment, and security procedures and documents.
Made presentations to Sleep Research Network, the Society for Women's Health Research, the Cleveland Clinic, the American College of Chest Physicians, the American Academy of Sleep Medicine, and the Boston Public Health Commission.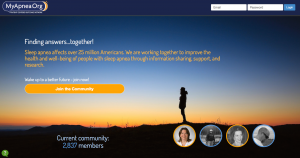 Goals for remainder of 2015:
Recruit at least 12,500 members to fight sleep apnea through comparative effectiveness and patient-reported outcomes research
Foster a patient-centered approach to focus research on questions and results that are most important to people with sleep apnea or at risk of sleep apnea.
Build an online community that is representational of racial/ethnic and socioeconomic backgrounds.
Advice for current members: Membership is open to any person that has or is at risk of having sleep apnea and wants to share and learn from others in order to shape future research and treatments. Parents and caregivers of family members are also able to join and help their loved ones participate and complete surveys.
Sleep Impressions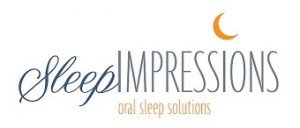 Membership open to: Physicians and dentists
Current membership: 16 dentists and 400+ physicians
Cost to join: Free for physicians; $999 for dentists (includes training for office staff and software configuration).
Mission: To improve the quality of life for sleep apnea patients by providing effective and affordable oral appliances, giving physicians a network of dentists trained in dental sleep, and offering dentists simple processes for managing and billing oral appliances.
Funding: Profit from membership fees, training (optional), and billing services.
Membership benefits:
Proven processes and protocols, including documentation for managing sleep patients.
Access to dental sleep mentors and continuing education.
Tools for screening and educating patients on sleep apnea.
Access to national accredited home sleep testing company providing diagnosis and scripts electronically and marketing to its referral network.
Review of all patient documentation to ensure insurance claim acceptance.
Prior authorizations and in-network billing of oral appliances.
Approved to provide oral appliances for the US Department of Veterans Affairs (VA).
Marketing on efficacy of oral appliance therapy to medical community and OSA patients.
Biggest accomplishments to date:
Built a network of dentists qualified to deliver and manage oral appliance therapy throughout Southeast and Midwest.
Negotiated contracts with five major insurance companies to provide oral appliances in-network.
Became an approved VA vendor for oral appliances.
Grew one dental sleep practice 80% in 2 months by making oral appliances affordable to its patients.
Developed hands-on dental sleep course and mentoring program.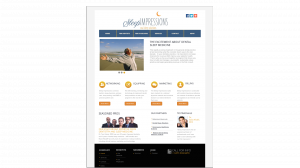 Goals for remainder of 2015:
Add 50 new dentists to the network in our current regions and expand along the East Coast.
Negotiate national contracts with two additional insurance companies.
Contract with hospitals and VA facilities to provide oral appliances.
Launch marketing campaign to reach noncompliant CPAP patients.
Advice for current members: Let Sleep Impressions educate and get your entire staff excited and involved in the program. Utilize screening tools to identify your own patients. Focus on caring for your patients while the Sleep Impressions staff negotiates with insurance companies, explains benefits and costs to patients, and manages collections. Communicate with other members of the network to share ideas, troubleshoot problems, and continue to learn about OSA. Get involved in the sleep medicine community.
SleepMed Physician Network

Membership open to: Physicians
Current Membership: 250 physicians
Cost to join: Free.
Mission: The SleepMed Physician Network is dedicated to supporting innovative care programs for sleep patients in an ever-evolving national healthcare environment.
Funding: (No response)
Membership benefits:
Exposes physician's practice to a new patient population.
Positions physicians for preferred local exposure as qualified and credentialed sleep experts.
Biggest accomplishments to date:
38 states are represented.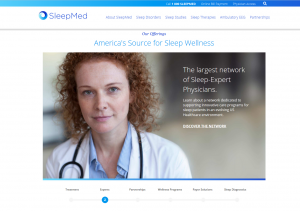 Goals for remainder of 2015:
Rolling out SleepMed Physician Network to additional physicians in 2015.
Advice for current members: Reach out to others in the network to learn more about benefits. Realize that national payors and self-insured employers are increasingly aware of the importance of sleep health for their members and employees. SleepMed, working in concert with national partners, has created a cost-effective vehicle for patient management services and available programs are being actively promoted as coordinated employee sleep health solutions.
Welltrinsic Sleep Network

Membership open to: Board-certified sleep medicine physicians and accredited sleep centers
Current membership: 504, with members in 46 states and Puerto Rico
Cost to join: Currently no cost. Membership fee projected to begin July 2015.
Mission: Welltrinsic is a national network connecting sleep physicians and accredited centers to deliver high-quality, integrated care. We link clinical expertise, practice development, patient management, data solutions, and insurance contracting.
Funding: Start-up funding was provided by the American Academy of Sleep Medicine (AASM). Additional funding is provided through service fees.
Membership benefits:
Listing on the Welltrinsic website in an online directory of sleep medicine providers.
Discounts of up to $1,250 on AASM new and reaccreditation applications for accreditation programs.
Access to Somnoware, a centralized data management platform that streamlines patient care coordination and automates workflow, at discounted pricing.
Opportunity to participate in network contracts for sleep medicine services that have been negotiated with insurance companies and managed care groups.
Innovative clinical services available to members at the lowest possible pricing: SHUTi—a personalized online program for insomnia that has been proven effective in multiple scientific randomized clinical trials; Night Shift—a clinically validated device for implementing and monitoring positional therapy for OSA.
Essential practice management solutions and services, including: discounted professional liability insurance through PPIC, a Coverys company, specifically tailored to meet the needs of members by offering sleep-specific and blended coverage options.
Professional financial and investment services through Mediqus Asset Advisors, with emphasis on investment strategy, wealth accumulation, and wealth preservation through a combination of personalized analysis, strategy, and advice.
Discounted pricing to a PPIC-developed sleep-specific malpractice insurance product designed to bring quality coverage at a more appropriate price. It has also developed a product with blended rates for those sleep specialists who practice both sleep medicine and another specialty.
Biggest accomplishments to date:
Secured contracts with Somnoware, Advanced Brain Monitoring Inc, and BeHealth Solutions to ensure that members have affordable access to the most innovative clinical services in sleep medicine.
Contracted with Health Net Federal Services to provide sleep services to veterans, active duty military personnel, and their dependents through its Patient-Centered Community Care program (PCCC) and TRICARE.
Partnered with PPIC to develop a more affordable sleep-specific malpractice insurance product for sleep physicians, who often pay higher premiums than necessary because the cost is typically based on the risk associated with their primary specialty rather than their sleep practice.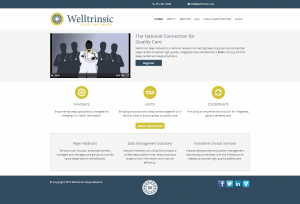 Goals for remainder of 2015:
Increase Welltrinsic membership to improve strategic position in negotiations with payors, healthcare systems, and employers.
Negotiate and finalize additional clinical service contracts to bring new referral sources to members.
Introduce new clinical programs, including a Sleep Wellness program, to expand member services.
Integrate the new AASM Quality Metrics program into the Welltrinsic sleep management system.
Advice for current members: Take advantage of the available clinical services that will help streamline care coordination and promote the highest quality of care. Innovative services such as Somnoware, SHUTi, and Night Shift are powerful clinical tools that will enhance the ability of any sleep physician or sleep center to provide exceptional, patient-centered care.
Sree Roy is editor of Sleep Review. CONTACT sroy@allied360.com