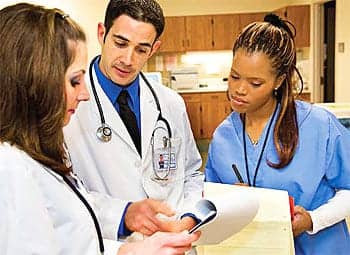 In early September, the American Academy of Sleep Medicine (AASM) launched its accreditation for non-Medicare durable medical equipment (DME) suppliers. The program came in response to the fact that many payors and managed care providers require DME accreditation for maximum reimbursement, and that DME services are an effective and efficient way for sleep labs to expand their continuum of care and build their business.
The new accreditation process, which consists of 32 standards, including five that are mandatory, is another way that the AASM can commit to providing sleep labs and professionals with the opportunities and tools to grow their businesses, according to Amy Aronsky, DO, chair of the AASM DME Accreditation Subcommittee. "With its educational programs for sleep specialists, its vast sleep medicine research opportunities, and its provision of sleep laboratory facility accreditation, the AASM continues to grow its cadre of sleep medicine services to meet the burgeoning needs of its members and facilities. More specifically, because of the changing nature of health care and sleep medicine, the AASM has continued to broaden its scope of accreditation services to include DME facilities," she says. "Accreditation status will set facilities apart from their competitors. Patients will have confidence that an AASM-accredited DME facility is providing quality services and ensuring equipment safety to its customers."
And, fundamentally, getting an edge might be the most important benefit that accreditation offers in these days of tight reimbursement and stiff competition. But besides this benefit, there are other factors to take into account when considering AASM DME accreditation.
WHY ACCREDITATION
According to Kelly J. Riley, CRT, RCP, director of the National Respiratory Network for The MED Group, there was a time when accreditation wasn't that important, but those days are long gone. "It does raise the bar and make you look at issues you haven't looked at before," she says.
At its best, accreditation should involve your entire team from directors and senior management to clinicians to technicians to your front and back office staff, and should look at every aspect of your business, including equipment, clinical processes, and the facility's financial health.
Riley cautions that "all accreditation agencies are not created equal" and that you should look at the reputation that the agency offering the accreditation has in the marketplace, in addition to the process. For instance, the site visit should take a fair amount of time and be thorough. And, while she has little knowledge about the specifics of its new program, Riley notes that the AASM has the kind of reputation that can be relied upon to offer an accreditation that will both raise the bar and be widely accepted and respected by payors and referring physicians.
THE PROCESS
Aronsky says that labs and other sleep medicine providers that operate DME facilities and are interested in becoming accredited should go to the AASM Web site (aasmnet.org) and review the application process, which includes a self-assessment that can help labs determine if a standard has been met. In addition, various forms needed to start the process are available for download.
Among the categories covered by the AASM accreditation process are facilities and equipment, financial management, claims submission audits, practice standards and procedures, human resources management, consumer services, training/instruction to patient/caregiver, performance management, product safety, information management, intake and assessment, equipment delivery and setup, follow-up, and disclosure of persons having ownership, financial, or control interests. All of these have to meet the standards outlined by the AASM in the application guidelines.
DME facility applicants should then fill out the application, collect supporting materials, assemble them according to the application checklist, and then mail the materials to the AASM via a traceable mail service such as UPS, the US Postal Service, or FedEx.
It should be noted that an application must be submitted for every distribution location operated by the lab, excepting warehouses or repair facilities.
Aronsky says that it typically takes about 2 to 4 weeks for the AASM to review an application. If it passes the initial review, then a site visit is scheduled. The site visit may seem the most stressful part of the process—designed specifically to knock applicants out of the process. But there is nothing to fear. Instead, says Aronsky, the visit is designed to be educational for the DME facility, not to point fingers or eliminate an applicant out of hand.
In fact, site visitors are professionals—physicians, respiratory therapists, sleep technologists, and DME business owners and managers—with years of experience and specialty training in DME accreditation. "They are qualified volunteers and serve as agents for the AASM to ensure that facilities are in substantial compliance with DME standards of accreditation," Aronsky says. "Most site visits conclude within 4 to 6 hours. Following the site visit, the site visitor submits a report to the accreditation committee for review. A recommendation regarding the application for accreditation status is submitted to the AASM board of directors for final decision."
The amount of time it takes to complete the process is dependent on several factors, including the completeness of the application, the number of applications that the AASM has received, and the timeliness with which an applicant responds to requests for additional information. But potential applicants should be prepared for the process to take up to 9 months.
There are three outcomes to the accreditation process: full accreditation, accreditation with provisos, and denial. Full accreditation lasts for 5 years. An accreditation with provisos means that the DME provider is generally—but not fully—in compliance and is approved for 5 years pending compliance with the provisos after the site visit. While denial may be discouraging, the DME provider can submit a new application—with all the attendant fees—and go through the process again.
Accredited facilities have a number of responsibilities in order to remain in good standing. They are required to notify the AASM of relocation, ownership, or key personnel changes. DME applicants whose affiliation with an accredited sleep center is expiring in 3 years or less may not require a site visit as part of the initial accreditation process based on the merit of the application and the discretion of the AASM.
While becoming accredited may be cause for cheers and celebration, the National Respiratory Network's Riley notes that accreditation isn't about what happens only once every few years during the initial and renewal periods. "It's an ongoing process that keeps you on your toes," she said.
WHAT'S COVERED
The respiratory equipment that is covered by the AASM accreditation may include continuous positive airway pressure (CPAP) and auto adjusting continuous positive airway pressure devices; oxygen concentrators, reservoirs, high-pressure cylinders, liquid oxygen, oxygen accessories and supplies, and oxygen conserving devices; home invasive mechanical ventilators; respiratory assist devices (RAD), including but not limited to bi-level, bi-level spontaneous, bi-level spontaneous/timed, auto adjusting bi-level positive airway pressure devices, and servo ventilation devices; nebulizers; suction equipment; insufflators and exsufflators; and portable oximeters.
Accreditation can be achieved by DME facilities that provide equipment that treats a broad range of respiratory disorders, not exclusively sleep apnea. However, additional materials beyond respiratory ailments will not be covered by the AASM DME accreditation.
A key element about the AASM accreditation that has caused some controversy is the fact that it specifically covers non-Medicare reimbursement. Riley notes that this is primarily due to rules established by the Centers for Medicare and Medicaid Services (CMS).
Peggy Miller, senior consultant for On Track HME Provider Services, has some reservations about the program, specifically because it offers a way for DME providers to move away from the CMS programs, and could, as a consequence, limit access for Medicare patients. She said that the DME landscape, at least for sleep medicine, could change significantly if there is a wholesale buy-in from insurers to the AASM accreditation.
Riley echoes Miller's concerns, but worries more about the business ramifications for existing DME providers if sleep labs move into the DME market. Without the ability to have access to privately insured patients, these non-AASM-accredited DME providers could find their access to "the cream" of insurance reimbursement dry up. Ideally, she said that it would probably work better if sleep labs leave the DME market to the existing providers and partner with them instead.
From the AASM's perspective, when a sleep lab wants to get into the DME market, it sends a powerful signal to its patients. "Integrating AASM DME supplier accreditation into a facility's services can help to illustrate their comprehensive approach to patient care and customer service as well as enhance their eligibility for non-Medicare insurance reimbursement," says Aronsky.
While the program is brand-new, the initial feedback has been quite good, says Aronsky. "AASM-accredited DME facilities embrace the opportunity to achieve this measure of excellence as a requirement for insurance eligibility and for participation in managed care plans," she says. "Participants enjoy a simplified online application, streamlined application process, and support from AASM staff."
Aiding the positive feedback has been the fact that DME facilities associated with an already AASM-accredited sleep facility will find the DME facility accreditation process to be structurally similar to the one used for the sleep facility.
Of course, with today's tight budgets, taking the risk of starting a sleep medicine-oriented DME service or even spending the money to get accredited could seem like a questionable investment. But, according to Aronsky, it isn't.
From Aronsky's perspective, pursuing the AASM accreditation is a good investment. "The AASM is known as the gold standard of sleep medicine and comprehensive sleep medicine services," she says. "DME accreditation may be required by payors, regulatory agencies, and managed care contractors to secure maximum reimbursement and to fulfill participation agreements."
Another motivator, adds Aronsky, is that the AASM is presenting an offer whereby sleep facilities and their associated DME facilities may apply for dual accreditation status for a reduced application fee.
These motivating factors are sure to be a draw to facilities that are considering the program. As the program rolls out, time will tell what impact it will have on facilities, patients, and the community of sleep medicine professionals and DME providers.
---
C.A. Wolski is a contributing writer for Sleep Review. The author can be reached at [email protected].