Here are some factors that sleep medicine professionals who opt for wrist-worn devices should consider.
By Lindsey Nolen
Sleep disorder patients may experience disrupted oxygen levels, and pulse oximetry is one way to track the amount of oxygen the blood is delivering throughout their bodies during rest.
Some sleep medicine professionals choose wrist oximeters over other types (such as fingertip oximeters) to use when conducting sleep studies. According to Leon Eisen, PhD, founder and CEO at wearable medical technology company Oxitone, this is because wrist oximeters are typically more comfortable to use during sleep.
"Currently, we are validating the possibility to monitor a patient's day-night-day that extends measurements beyond just overnight. This provides invaluable data on the dependence of patient sleep and obstructive sleep apnea on their daily activity and behavior," Eisen says. "At the same time, we can get information about how sleep quality correlates with insomnia that may happen the next day in case of the bad sleep. These measurements are possible only using wrist-sensor pulse oximeters."
Amy Hammond, RPSGT, project manager at wearable medical technology company Patient Safety Inc, says wrist oximeters are appealing because they are portable and designed for prolonged use. Sensors for wrist-worn units are manufactured for comfort and stability when worn hours on end, she says, and their data storage capacity, measurement acuity, and battery life exceed that of fingertip oximeters.
Jennifer Brickner-York, MPH, MCHES, RPSGT, vice president of operations at outpatient sleep disorders program SleepCare Inc, says her sleep center chooses to employ wrist- pulse oximeters for diagnostic purposes. In addition to being able to record large amounts of data over an extended period of time, she says wrist oximeters are less likely to fall off while a patient sleeps.
If a sleep professional opts to purchase wrist oximeters for patient use, there are several factors to consider.
[RELATED: In Sleep Oximetry, Not All Oximeters Perform Alike]
Clinicians must determine if the device is cleared by the US Food and Drug Administration (FDA). Oximeters cleared by the FDA are fundamentally different from consumer oximeters or oximeters registered with the FDA as "wellness devices." Consumer and wellness devices are not held to the same rigorous standards for accuracy testing that FDA-cleared medical devices are and should not be used in the clinical setting.
Once a clinician has verified that an oximeter is FDA-cleared, Hammond recommends asking two questions: What is the sampling rate? What is the SpO2 resolution?
"Two primary dimensions impact the oximeter's ability to detect oxygen desaturations accurately. Research has shown that oximeters with a 1 Hz sampling rate and a 0.1% SpO2 signal resolution more accurately and reproducibly detect milder sleep apnea events," Hammond says. "Further, oximeters with both 1 Hz sampling and 0.1% signal resolution are highly sensitive and specific when compared to home sleep testing results.1
"Sampling rate often becomes relevant in situations where a patient experiences apneas that result in short, mild desaturations or frequent repetitive desaturations. An oximeter with a lower sampling rate is less likely to detect the true minimum and maximum SpO2 value for the event, and as a result, it may not identify this desaturation as a qualifying event. Ultimately, this can lead to underestimation of the oxygen desaturation index."
Brickner-York credits Patient Safety Inc's SleepSat wrist oximeter with enabling her sleep center to detect milder cases of sleep apnea that could go undiagnosed by other devices.
She adds that the best pulse oximetry units are adjustable and can fit different wrist sizes, including those with small, medium, and large circumferences. Clinicians should also take into account clinical and environmental conditions that may impact blood flow or perfusion, Brickner-York says.
Also consider the sleep study equipment and software with which the oximeter can integrate.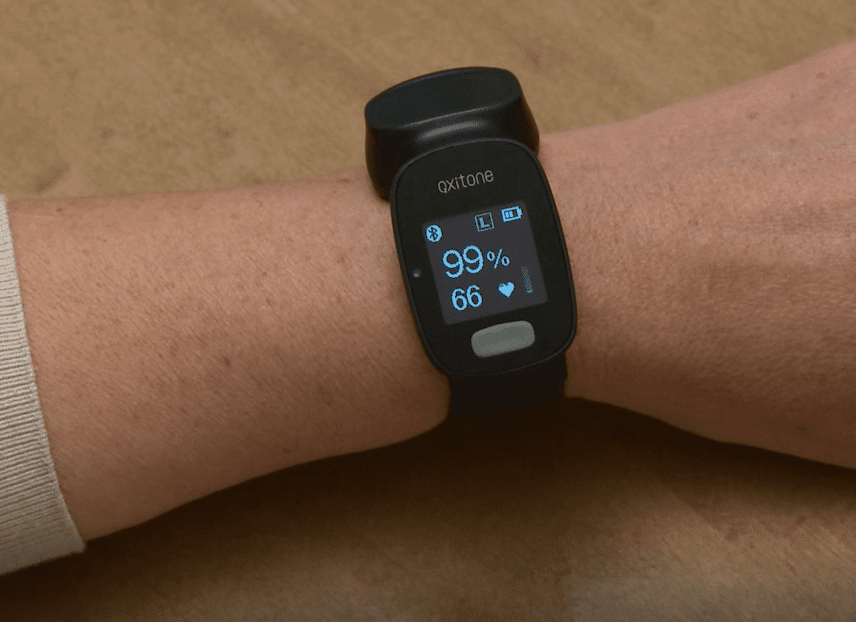 For example, Oxitone offers a SaaS cloud-based portal to collect the data and generate sleep and stress study reports. It offers hardware and software that enable clinicians to download data directly from the device. The device can keep the data for up to 10 days of continuous measurements.
Patient Safety Inc offers its SatScreen software, which is intended for use with high-resolution oximeters. It features an online portal for viewing test results. SleepCare Inc uses SatScreen because it allows the sleep center's busy physicians to understand the results quickly.
Ease of cleaning is another factor to consider. Brickner-York also advises sleep professionals to seek out devices that include simple cleaning and disinfecting protocols, as outlined by the manufacturer. Precise manuals that convey details about how to use and clean each device are a must, and step-by-step picture instructions are particularly helpful, especially when being used on patients who cannot read or who rely on visual learning, she says.
Patient Safety's Hammond says its wrist oximeter should be wiped down with a cloth dampened with a 70% isopropyl alcohol solution. "Also, we provide our customers with a custom carrying case to reduce the likelihood of incidental damage during transit or storage," she says. Other wrist oximeters makers, such as Nonin, also offer carrying cases for their devices. Brickner-York echoes the sentiment that durability in real-world environments is paramount.
Warranties and estimates of useful life are also important to ask about. At Oxitone, "We offer a 1-year warranty," Eisen says. "We estimate useful life based on battery exhausting parameters. The battery is down to 70% of its performance within 2 years or after about 500 recharge cycles. This is a conventional battery lifetime accepted by the industry." At Patient Safety, "The SleepSat has a 1-year manufacturer's warranty. Most practices/labs can easily get more than 3 years of use with a device," Hammond says.
To avoid inadvertently voiding a warranty or shortening the useful life of a wrist-worn pulse oximeter, Hammond offers the following advice.
Keep the oximeter out of the reach of children and pets when not in use to avoid accidental damage.
Avoid exposing the oximeter to excessive heat and water. Instruct patients not to leave their wrist-worn pulse oximeters in a hot car during the day.
During an overnight test, patients should remove their oximeters when using the restroom or washing hands.
Do not force sensors or charging cables into ports. If the sensor is not fitting, check the orientation of the cable.
Brickner-York emphasizes that pulse oximetry can be useful for almost any patient population, due to the tool's simplicity and low cost.
FEATURED IMAGE caption: Wrist oximeters are designed for prolonged use. Shown is Patient Safety Inc's SleepSat device.
Lindsey Nolen is a Jacksonville, Fla-based journalist who has been writing about healthcare for over 5 years.
Reference
Böhning N, Schultheiss B, Eilers S, et al. Comparability of pulse oximeters used in sleep medicine for the screening of OSA. Physiol Meas. 2010 Jul;31(7):875-88.