The Swedish Sleep Medicine Institute provides solutions to sound sleep through diagnosing a full range of adult and pediatric sleep disorders, education, and research.

From left, Sarah Stoltz, MD, Ralph Pascualy, MD, and Daniel Loube, MD.
Sleep medicine was still in its infancy when Ralph Pascualy, MD, medical director of the Swedish Sleep Medicine Institute (SSMI), Seattle, decided that he wanted to make a career in the field rather than just maintain a part-time interest. It has been two decades since Pascualy, a board-certified psychiatrist who completed a fellowship in sleep medicine at Stanford University, founded the SSMI within the Swedish Medical Center, and the field is no longer what it once was.
"Back in 1984, it was just me, a technician, a chair, and a desk in a hallway," Pascualy jokes. Today, however, the field of sleep medicine has experienced exponential growth with growing recognition of obstructive sleep apnea; the rise of research groups, foundations, and patient advocate groups; increased public awareness of the consequences of undiagnosed sleep disorders; the willingness of third-party payors to reimburse for sleep studies; and advances in technology. Even with such advances, Pascualy believed that what sleep medicine needed was greater involvement of various specialists. Now, 20 years later, SSMI staffs more than 70 employees including laboratory technicians, clinical research coordinators, and respiratory therapists in its 14-bed center, and continues to grow.
"I became aware that understanding the disease processes of other specialties would help diagnose and treat any number of sleep problems," Pascualy says. "A lot of neurological patients were having problems with sleep, and more physicians began detecting sleep apnea in cardiology and lung disease patients. We also were seeing people who had broad, medically based insomnias associated with joint disease and fibromyalgia.
"A small minority of people suffering from disturbed sleep are being referred for help, and in part I think it's because physicians don't understand the details of how someone's sleep becomes disordered," Pascualy says. "In the general medical field, there still is a lack of understanding about sleep physiology. It is no longer enough to think about just snoring or sleep apnea. That is merely a small segment of things going on that disturb sleep."
Pascualy envisioned a model of care where a broad general medical knowledge could be integrated with a behavioral and psychological approach to sleep disorders, and so he brought numerous specialists on board at SSMI.
"We all did sleep fellowships and are all boarded, but our approaches vary," says Daniel Loube, MD, associate medical director of SSMI and a board-certified pulmonologist. "I bring the internal medicine approach to the treatment of sleep disorders while others are coming from a psychological or neurological perspective. Because of that, we provide better care than most other sleep disorder centers I know."

John Basile, RRT, educates a patient about her CPAP treatment options.
The SSMI program is split into two clinics—one at Swedish Medical Center/First Hill Cam-pus and one in the Factoria area, east of Seattle—and a sleep laboratory at Swedish Medical Center/Providence Cam-pus. All of the Swedish Sleep Medicine Institute's facilities are accredited by the American Academy of Sleep Medicine (AASM) and the Joint Commission on Accreditation of Healthcare Organizations. Currently, Swedish Medical Center has more than 7,000 employees and more than 2,000 affiliated physicians. Patients who are referred by physicians or who come to SSMI on their own begin by going to one of the clinics, where they fill out a comprehensive questionnaire and meet with a physician or nurse practitioner to go over their answers. If they need a sleep study—and practice manager Sue Detwiller notes that 80% to 85% of new patients do—they are sent to the sleep laboratory, which features 14 beds and operates 7 days per week.
"The lab is outfitted with the most advanced technology available today, and that allows us to more accurately diagnose the patient," says clinical laboratory director Bonnie Robertson, RPSGT, CRT. "We have digital diagnostic acquisition equipment and more advanced titration systems, and for the patient that means more comfort and more choices in interface devices.
"Our technicians really work hard to make patients feel at home and make the study as comfortable as possible in other ways, too," Robertson says. "We have two childproof rooms dedicated to the younger patient age group, and there are cots available in these rooms so that parents can stay with their kids during the study."
All patients—including those who did not undergo a sleep study—return to the clinic for a follow-up visit. Nigel Ball, PhD, accredited clinical polysomnographer, assists with reviewing sleep laboratory results, and helps with quality assurance issues in the laboratory.
"Our quality assurance program helps us make sure our equipment and our technologists are up to snuff," Ball says. "All of our sleep studies are reviewed by me, a technical coordinator, and one of the physicians. We have a feedback mechanism to make sure things are done properly, and we have regular case reviews to deal with the clinical quality assurance."
Diagnosis and Treatment Resources
SSMI diagnoses and treats a full range of adult and pediatric sleep disorders including apnea, insomnia, daytime sleepiness, narcolepsy, periodic limb movement disorder, restless legs syndrome, rapid eye movement (REM) sleep behavior disorders, and non-REM disorders, such as sleepwalking or night terrors.

Dallas Parman, RPSGT, CCRC (left), and Ralph Pascualy, MD, examine a patient.
"The first step in diagnosis is to find out if there is a trigger for behaviors such as sleepwalking or night terrors," says neurologist Sarah Stolz, MD, associate medical director of SSMI. "In a sleep study for a woman who fell out of bed and fractured her tailbone, we found that she had apnea that was mild but was enough that it was causing a problem. We put her on CPAP (continuous positive airway pressure), and the apnea—and the sleepwalking—ceased."
Since apnea afflicts a large number of SSMI's patients, a special clinic was organized with a respiratory therapist, a nurse practitioner, and a physician to focus exclusively on CPAP compliance. Patients with a diagnosis of apnea are referred to applicable durable equipment companies listed in their individual plan or to Swedish Sleep Therapy Supply for education on positive airway pressure therapy and a chance to try out the CPAP equipment.
"We have more than 30 years of sleep apnea experience among the five therapists who work here, and more than 120 years of accumulated respiratory care experience," says John Basile, RRT, manager, Swedish Sleep Therapy Supply. "That is a lot of specialty experience among the group, and there is not a machine we haven't seen or a patient complaint we haven't come across and couldn't address."
Those complaints often involve issues such as how big or noisy the equipment is, and whether it is going to bother their bed partner or keep them from getting to sleep. Patients also want to know how much their treatment will cost, and Basile says his staff tries to make financial issues a lower priority by dealing with the insurance company for the patient.
"Right away, we try to overcome all the barriers that prevent patients being compliant with their therapy," Basile says. "The AASM reports that if we don't get the patient in the first 4 days, we probably won't get them at all. So we want to make sure that patients feel empowered and that they are integrated into the process of making this therapy work. It's not me making it work for them, it's us making it work together. And the bottom line is that if you can work with CPAP and can get along with it in your life, the treatment will take care of your sleep apnea."
While it is costly to have such a large group of full-time respiratory therapists on hand for such a program, Pascualy points out that the improvements in compliance are well worth it. "What's the point of people buying CPAP machines if half of them are sitting in the closet? Compliance is the key to treating sleep apnea, so everything you do has to be focused on that," he says.
In keeping with Pascualy's vision of a specialized approach to sleep medicine, SSMI has added a bariatric clinic and is establishing strong professional relationships with maxillomandibular surgeons and specialized dentists. SSMI also is looking at developing a clinic in the upcoming years that will focus exclusively on women's sleep problems.
"Women's sleep issues have been underrepresented in what has long been a male-dominated field," Ball says. "It is a specialty that has been needed for a long time and this will be an exciting project."
Education and research are other aspects of sleep medicine that SSMI incorporates into its approach. The facility puts on an annual Sleep Medicine Symposium for primary care physicians, nurse practitioners, and clinicians from various specialties; publishes a quarterly clinical research newsletter; and hosts community physician education sessions, noontime lunch conferences, and afternoon lectures.
And while none of the sleep laboratory beds are reserved for research per se, Robertson says several are occupied each week for any number of clinical drug and device trials.
A Multidisciplinary Difference
In each aspect of its patient care, educational efforts, and research studies, SSMI remains rooted in Pascualy's vision of a multidisciplinary approach to sleep disorders. According to the physicians who work with him, that is what gives SSMI an advantage in its field.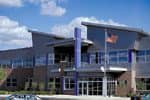 Clockwise: Ed Grandbois, Erika Leatham, RPSGT, Carole Kemp, Bonnie Robertson, RPSGT, CRT, and Adela Stephenson.
"Clinics run by one type of specialist do not have all the components there, and I believe the patients get short shrift because of that," Loube says. "They may be seeing someone who has an underlying psychological issue that is complicating their sleep disorder. In such instances, clinics need to have good working relationships with other subspecialists in their area to maximize their care."
Patients may also develop additional problems along their treatment course that require the attention of specialists, Pascualy says. "In what was initially a simple CPAP case, depression or restless legs syndrome may eventually develop, and we need to be able to take care of those new issues," he explains. "These are cases where a person who has been seeing one specialist now really needs the help of one or two others to get healthy sleep. At SSMI, we are able to have patients consult with other providers as their problems shift."
SSMI also has an advantage in its staff, who are committed enough to Pascualy's vision to stay with his program year after year. "The physicians here are 100% invested in doing sleep medicine full time, and there is little turnover in the staffing," Robertson says. "Many of our employees have been with us for 5, 10, or 15 years. That kind of longevity makes for a better work environment."
"Dr Pascualy is our visionary," Stolz says. "He started it all 20 years ago with a big picture in mind and he keeps us moving in that direction."
Liz Finch is a contributing writer for Sleep Review.