Following The Sun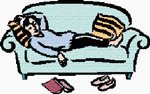 James P. Shaffer, MD, and Corie Downey, RPSGT
With the hypnotic sounds of the Atlantic Ocean rolling onto 72 miles of sandy beaches and the soft rustling of palm trees, Brevard County, Florida, seems like an ideal location to settle down for a deep, restful sleep. But just like virtually every other place in the nation, residents of this region of east central Florida have their share of sleep disorders that keep them from getting healthy sleep. Quite a few in fact—making the Health First Sleep Disorders Center at Palm Bay Community Hospital one of the busiest, most technologically advanced sleep centers in the state.
This completely digital sleep center, which is fully accredited by the American Academy of Sleep Medicine (AASM), features four bedroom suites for sleep studies. Led by James P. Shaffer, MD, medical director, the center is open 6 days per week and maintains capacity rates of approximately 80%. Patient volumes have increased by 200% over the past 4 years, and last year the center performed more than 700 sleep studies.
Shaffer—who is board-certified in internal and pulmonary medicine, a fellow of the American College of Chest Physicians, and a fellow diplomate of the AASM—is proud of the large quantity of cases the center manages. "Our volumes are remarkable when you consider that we perform both adult and pediatric studies, and when a child is evaluated, two of the four rooms are needed because the parent must stay near the child," he explains. Of course, Shaffer is proud of not only the center's high volumes because they translate into more experience, but also the consistently high level of quality and patient satisfaction the center has maintained while treating an increasing number of patients.
The center boasts continuous positive airway pressure (CPAP) sleep mask compliance rates of 90%, which is significantly higher than national averages. But perhaps what makes the Health First Sleep Disorders Center unique is its location in a 60-bed community hospital. Tucked in the corner of this family-focused care facility is Brevard County's only fully accredited, hospital-based sleep disorders center.
Advanced Technology
Founded in 1988, the Health First Sleep Disorders Center was actually formed at Holmes Regional Medical Center, a 468-bed Health First hospital located in nearby Melbourne. (Health First is a not-for-profit health care organization with three hospitals and outpatient diagnostic centers, and is an HMO.) The original one-bed sleep program was developed in response to area physicians who wanted to diagnose and evaluate treatment for sleep-related breathing disorders. Over the next several years, the program was gradually enhanced and the staff was expanded to include two RPSGTs. In 1994, the center relocated to Palm Bay Community Hospital, which had opened its doors 2 years earlier. The new hospital offered the Sleep Disorders Center enough space to expand to four beds, and full accreditation was granted in 1995. Because the Health First Sleep Disorders Center has filled a critical need in the community, as evidenced by the growth and capacity rates, the hospital recognizes the importance of investing in its services. Most recently, the center received an equipment upgrade for its two remaining analog systems and today the center is fully digital.
"With four polysomnography systems, both our patients and the hospital benefit," Shaffer explains. "First, the digital systems increase our capacity to gather more data and information per study, when compared to analog systems. Second, the digital systems allow us to deliver results to the patient's referring physician faster. Finally, the digitally recorded sleep studies save about $30,000 per year because they're recorded and stored electronically, as opposed to the high cost of recording and archiving studies on paper."
The center's digital monitoring hub is situated in the middle of the 1,300-square-foot center. It is flanked on two sides by two private patient rooms that share an adjoining bathroom, complete with shower and other amenities. Each of the four rooms is decorated with the ambience of a hotel suite, rather than a hospital. The result? While patients entering the center may be impressed and slightly intimidated by the high-tech computer systems, once they are ushered into their cozy room, they can easily relax and forget they are in a hospital or sleep center at all.
A Friendly Environment
Of course, the staff plays an integral role in helping the patients relax. Shaffer, who is pleased about the recent digital upgrade, points out that "Our staff has far more to do with our success than our sophisticated diagnostic tools." Two members of the sleep center staff are RPSGTs with an impressive 15 years of combined sleep studies experience. The additional technicians who work 4 nights a week come from related fields such as cardiology and nursing, and each one has undergone an extensive 3-month training program under the supervision of the registered technologists.
Upon arriving at Palm Bay Community Hospital, the patient is greeted in the lobby by a member of the sleep disorders staff and escorted to his or her suite, where the study process is carefully explained in layman's terms. The technicians focus on friendly open communication, a level of detail that is informative without being overwhelming, and plenty of care to help each person feel at home. Before going to bed, the patient is shown an educational video about sleep apnea in the comfort of his or her room.
According to Corie Downey, RPSGT, manager of the center, "We believe that this process of continual, reinforced learning contributes to high compliance rates. We also find that if patients are calm, they are more compliant when they're here. They're able to listen and understand when the technicians explain the testing process, answer their questions, and discuss the importance of sleep disorder management. We spend a great deal of time hiring technicians who not only have the technical skills we need, but also the warm, compassionate personalities that our patients respond to."
While the team's patient and education focus is evident from one's first contact with the Health First Sleep Disorders Center, the learning process actually begins with the referring physician. The center's panel of evaluating physicians includes five who are diplomates of the AASM. All doctors who evaluate patients for the Health First Sleep Disorders Center have accumulated vast experience in the field and met strict guidelines established by the AASM. Patient instruction for sleep disorder management starts with one of these physicians doing an evaluation and that is followed by a sleep study.
Sleep Apnea
A common topic of discussion with patients is sleep apnea. Downey explains, "With increased awareness of sleep disorders within both the medical field and the public, more patients come in with the chief complaint of sleep apnea. As a result, more patients are ordered a split-night study." During the night, patients who meet the center's protocol for severe sleep apnea are woken and fitted with a nasal continuous positive airway pressure (nCPAP) mask, allowing the team to conduct a split study. Approximately, 50% of the patients are treated with nCPAP during the night.
Downey also notes that being hospital-based is helpful for more than security reasons. "Once in a while, we have a patient undergoing a study who needs to be sent to the emergency department for arrhythmia, chest pains, congestive heart failure, or other problems that require immediate care. Unlike centers that aren't hospital-based and have to wait for an ambulance to arrive, we have emergency medical care within steps of our unit," she explains.
The team most frequently deals with adult patients who have obstructive, central, and/or mixed sleep apnea. Other commonly diagnosed disorders include restless legs syndrome, periodic limb movement disorder (PLMD), insomnia, narcolepsy, somnambulism (sleepwalking), sleep terrors, jactatio capitis nocturna (head banging), and bruxism (teeth grinding).
Recently, Shaffer and his team have noticed an increasing trend among adult patients. Morbidly obese individuals looking for insurance coverage for weight loss surgery are now taking the sleep studies route. Once they are diagnosed with obstructive sleep apnea, many insurance companies are more willing to cover the expensive surgery to avoid the long-term costs of related problems like heart disease and stroke. Of course, Shaffer and other referring physicians also counsel obese patients with other weight-loss options, including lifestyle changes, exercise programs, and prescription medications.
Pediatric Issues


Jeff Morris, RPSGT, prepares a pediatric patient for an overnight sleep study.
On the other end of the scale, pediatric patients bring their own unique set of issues to the Health First Sleep Disorders Center. The center works with children of all ages from infants to teens. A large number of adolescents are recommended for sleep studies to rule out attention deficit hyperactivity disorder (ADHD), where many symptoms, such as acting out in class, are similar to common sleep disorder signs. Some of the pediatric patients are discovered to have PLMD or snoring problems that disrupt their sleep.
Jeff Morris, RPSGT, senior technologist/case manager, says, "About 10% to 20% of our patients are under age 18. They require their own type of individual care, and if a pediatric patient does have a sleep disorder, we must not only educate the child but also the parent." Morris notes that the pediatric caseload tends to escalate in the very beginning and the very end of the school year when parents often decide to tackle behavior issues.
Care Beyond The Sleep Study
After the sleep study, the results are passed on to the evaluating physician, but the Health First Sleep Disorders team does not drop out of the patient's life. During the first 9 months following testing, the staff typically contacts patients by phone at least two or three times. The first contact is generally made 6 weeks after the study. This continued communication allows the staff to ensure that patients' needs are met and their sleep problems are resolved. In many cases, patients dealing with a new CPAP regimen complain that they are having trouble with the mask. The staff invites them into the office to discuss the problem and allow them to try alternative masks that may be more comfortable.
Morris explains, "We offer patients a wide array of masks to fit every comfort level and need from different face shapes to facial hair like beards. We make a special effort to obtain samples of every product that might help our patients, so we can present them with a variety of choices."
Follow-Up
Follow-up care also is monitored by Shaffer, who reviews the referring physicians' final dictation and ensures that each patient is provided with a clear diagnosis and the best treatment options. "These follow-up steps, combined with the education that the staff and referring physician provide, contribute directly to our exceptionally high CPAP compliance rates," Shaffer says.

Jeff Morris, RPSGT, and Corie Downey, RPSGT, review sleep studies in the laboratory.
Of course, compliance rates are not the only numbers that interest the staff. A feedback questionnaire is provided to all patients and the tabulated results consistently rate the center highly. Downey explains, "In the second quarter of 2002, 98% of our patients strongly agreed that their sleep studies experience was satisfactory. Feedback is especially positive about our night technicians. Patients regularly ask about them during the follow-up phone calls, even 9 months later."
The sleep center team also takes their dedication to the field of sleep study out into the Brevard County community. Shaffer and the team have given numerous free lectures on sleep health and sleep disorders throughout the year on everything from healthy sleep for teens to recognizing and dealing with sleep apnea. The team's outreach efforts even led to a change in school start times for the county after the local school board reviewed studies showing that middle-school children and teens require more sleep.
A Bright Future
While some plans are more solidified than others, the sleep center staff can definitely count on more changes in the future. These plans include gearing up the staff to include more registered technologists, expanding local community outreach programs, and possibly opening a satellite center on the opposite end of Brevard County, which stretches more than 70 miles from north to south. With many high-tech companies based in the area, an enticing quality of life, and an aging Baby Boomer generation planning retirement in Florida, Brevard County anticipates continued population growth. Likewise, the Health First Sleep Disorders Center at Palm Bay Community Hospital eagerly anticipates a sea of patients. After all, no matter how captivating the nearby waves sound or how soothingly the tropical palms flutter, there is bound to be some in central Florida who need expert help so they can enjoy a restful slumber.
---
Candace Leigh Bowering is a freelance writer and marketing consultant at B Squared Creative, Melbourne Beach, Fla.