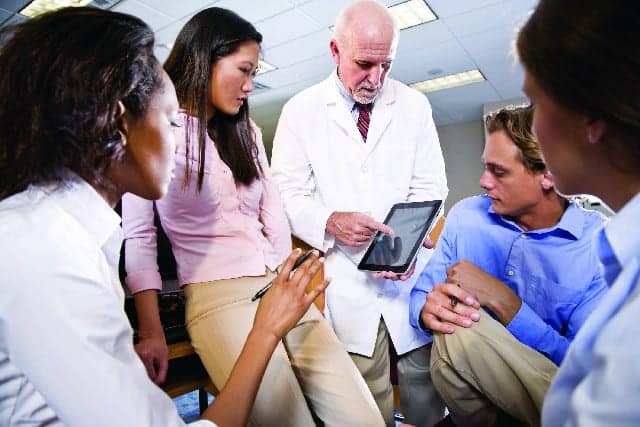 American-based polysomnography training programs have become increasingly attractive to foreign students, often filling the training void in their home countries. While there are more similarities than differences among sleep technologists in the United States and abroad, these foreign students seek out US programs for a unique opportunity to develop their own skills and, in turn, to develop the sleep medicine field in their home countries.
The Need for Training
For Nicola Barclay, BA(Hons), MSc, PhD, the decision to come to the United States from England to take the A-STEP program at the Atlanta School of Sleep Medicine and Technology was twofold. As the associate director of the Northumbria Centre for Sleep Research, located in Newcastle upon Tyne, and having completed her PhD in sleep last year, Barclay had been focused on the research aspects of sleep medicine. That research had been conducted using subjective measures of sleep and actigraphy, she says. But as the relatively new center ventured into conducting polysomnography-based studies, Barclay found herself in need of sleep technician training, and fast. Not only did she need it for herself, she also needed the knowledge and skills to teach the research assistants in the lab.
Similarly, Mohammad AlAhmari, PhD, RRT, also sought out an US-based program to enhance his own knowledge for future research and to train a new generation of sleep technicians in Saudi Arabia.
"At my academic institution, we have a new baccalaureate program in respiratory care and one of the core courses in the curriculum is a polysomnography course. This [requires] special training as the course has practical hours," says AlAhmari, who serves as the director of the respiratory care program at the Prince Sultan Military College of Health Sciences in Dhahran. The school, he adds, has a fully equipped sleep laboratory that is used for teaching, and will eventually be used for research.
Filling the Void
For Barclay, the A-STEP program offered a more comprehensive curriculum than the few UK-based polysomnography programs, and came at the recommendation of her center's director, who also completed the A-STEP program in the United States.
Meanwhile, in Croatia, there is no formal education for sleep technicians—no courses, no schools, and no licensing exams. According to Ivana Marusic, to work as a sleep technician one must have a bachelor's degree in the medical field. And while Marusic has a bachelor's in physiotherapy and is currently finishing a graduate program in neurological physical therapy, she wanted the sleep technician training for her work in the two-bed pediatric sleep lab at the Children's Hospital Srebrnjak. The A-STEP program also came highly recommended to Marusic from her supervisors at the hospital who also had completed American programs. "Since it is well known that the biggest authorities in sleep science and sleep medicine come from the United States, [my supervisors] recommended that I get my training in Atlanta," she says of her decision to pursue training in the United States.
Like Marusic, Ahmed Al-Harmali, RPSGT, comes from a clinical background and also came to the United States from Oman at the recommendation of colleagues who had trained here. Al-Harmali, who works in a three-bed sleep laboratory at the Sultan Qaboos University Hospital along with three other sleep technicians, works in the only sleep laboratory in the whole country.
The bare bones sleep infrastructure means the future possibilities are endless. "My hope for the future of sleep medicine in my country," says Al-Harmali, "is to have more sleep labs and to get people aware of the importance of sleep studies in improving their lives." Two of the current problems facing the sleep field in Oman, says Al-Harmali, is the long waiting list and a lack of female technologists who can work with female patients when they refuse a male technologist.
AlAhmari also reports a shortage of sleep technicians in Saudi Arabia, noting that a recent study looking at the current problems and future challenges of sleep medicine in the country found that the key reason for the lack of sleep disorder facilities is the lack of sleep technologists. The few sleep labs that do exist in Saudi Arabia, AlAhmari points out, follow the clinical standards for sleep medicine developed by the American Academy of Sleep Medicine. But there is hope for the future of sleep medicine in the country, says AlAhmari, noting the creation of a new Saudi-based fellowship program in sleep medicine, considered the first such fellowship in the Gulf region.
In Croatia, meanwhile, Croatian health insurance officially recognized the importance and need of introducing CPAP/BiPAP machines to pediatric and adult patients suffering from obstructive sleep apnea (OSA) and related disorders, and began covering these treatment modalities in March 2012, according to Marusic. And while the current economic situation in the country limits employment opportunities for sleep technologists, Marusic still sees plenty of opportunity for growth. There are long lists of patients needing testing and treatment, and with a move to make testing for sleep disorders, like OSA, mandatory for professional drivers in the country, "there is a real need for opening new sleep laboratory facilities and therefore creating jobs," says Marusic.
The Value of Hands-On
Given the fact that Barclay isn't from a clinical background, her training in the United States gave her a unique opportunity. "It was good to have the experience to see how a clinical sleep lab runs," she says. "A lot of the background material and a lot of the theoretical and medical material I already knew. It was kind of a refresher. I really went there for the application of running an overnight [PSG study]."
The hands-on training and experience in the sleep lab, mixed with the theoretical coursework, were also a highlight for AlAhmari, Al-Harmali, and Marusic. "The fact that we were able to practice the hookup, observe real patients in [the sleep] laboratory, and do scoring was very useful. For me, it was interesting to see where there were differences in the real workplace, particularly in the pediatric sleep lab and to compare it to my lab in Croatia," says Marusic.
Once Barclay found herself back in her lab in England, she immediately found her education being put to use. "I always have the handbook I was given, with all my notes, that I use pretty much on a weekly basis. I'm always referring back to that and checking my electrode placement, using all the tips and techniques we were taught. I use it a lot." Going forward, her plan is to use her training as primary investigator on a study looking at gene-environment interaction in sleep disorders.
For Marusic, the training greatly improved her skills and confidence when performing polysomnogray studies. And like Barclay, Marusic is using her knowledge to teach her colleagues in the lab.
AlAhmari also sees a need to share his knowledge outside his academic institution. "I need to get more involved in clinical labs and to help out in expanding the knowledge into clinical sites," he says. Going forward, Marusic and AlAhmari have plans to take the examination to become licensed RPSGTs.
Alison Werner is former associate editor of Sleep Review. Questions for the author can be sent to sleepeditor@allied360.com.