The Sleep Disorders Center at Trinitas Hospital is focused on excellence while serving a diverse patient base.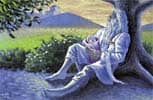 To understand what makes the Sleep Disorders Center at Trinitas Hospital special, it is necessary to understand a little about its home town, Elizabeth, NJ. Located less than 10 miles from Newark, NJ, and only 20 miles from New York, Elizabeth is part of the northeastern New York-New Jersey megalopolis. It actually becomes 4% smaller during the day due to people who commute elsewhere to work. However, what really makes Elizabeth unique is its people. In the last US survey, it had a population of about 130,000, of which about half (49.5%) was Latino. African-Americans made up another 20%, and Elizabeth is also a magnet for immigrants. Its population is 43.9% foreign born, the bulk of whom are immigrants from Latin America. As a result, many of the patients seen at the Trinitas sleep center are Latino and many are low income.
But in the case of Trinitas, low-income patients do not translate into low-quality care. Quite the contrary is true. Trinitas is accredited by the American Academy of Sleep Medicine (AASM) and has passed its inspection by the Joint Commission on Accreditation of Healthcare Organizations (JCAHO). It goes to great lengths to serve all its patients, those with insurance, those who choose to pay privately, and those without insurance. Through strict quality standards and licensing, Trinitas has tried to establish its sleep disorders center as a sort of beacon for sleep care that casts a wide beam. Its home base is Elizabeth, but it gets patients from throughout the Northeast.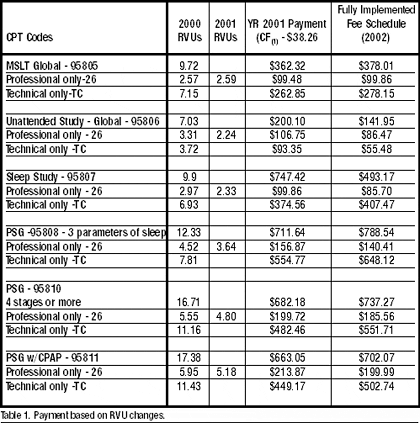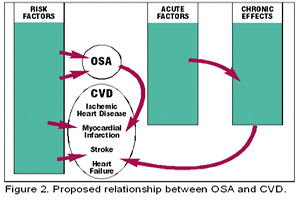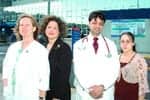 An inner city location is an opportunity, not a challenge, for the Trinitas Sleep Disorders Center staff. From left, Kim Shafer, RRT, department manager; Nancy DiLiegro, PhD, director of clinical services; Vipin Garg, MD, FAASM, medical director; and Maria Caro, bilingual coordinator.
"We cover New York City and all areas of New Jersey. We even had a patient fly in from Maine to be tested," says Nancy Gonzalez, RRT, RPSGT, Trinitas' chief daytime technologist. While all promotion and patient information material is available in Spanish and English and the sleep center employs bilingual staff, it is not only the Spanish-speaking community that is served. The hospital has employees who speak many other languages and a foreign language phone service to translate for other patients, Gonzalez adds.
No matter their income level, patients are not turned away. "We take care of everybody who comes," says Kim Shafer, RRT, the hospital's respiratory department manager, who also oversees the sleep center. She estimates that Medicaid and Medicare, along with charity cases, comprise about 15% of the sleep center's business; the other 85% is paid for by private insurers. "We have had patients from Pennsylvania, Vermont, and Connecticut who heard about the [sleep] lab and wanted to come here," Shafer says.
Home-grown Idea
It was the increasing numbers of patients with sleep- disordered breathing seen by the hospital's pulmonologists that spurred the creation of the Trinitas Sleep Disorders Center, Gonzalez says. In 1998 the pulmonologists advised administrators at what was then Elizabeth General Hospital to start a sleep disorders testing center, and the hospital complied with one room and one bed.
In 2000, Elizabeth General merged with the city's other central hospital, St. Elizabeth, to form Trinitas Hospital, a 531-bed institution comprised of the two medical campuses, which are about a mile apart. Trinitas set aside space for a new sleep center in its administrative services building, and, in 2004, it was enlarged to four rooms, to serve an ever-increasing demand for sleep disorder diagnosis, Gonzalez explains.
Prior to the expansion, the wait for a sleep study had been 3 to 4 months, according to Nancy DiLiegro, PhD, who is Trinitas' director of clinical services. That wait was "unacceptable," she adds, and she was one of those who lobbied for the expansion. Now the Sleep Disorders Center sees between 800 and 900 patients per year, and it has become one of the top five profit generators for the hospital, adds DiLiegro, although for proprietary reasons she will not go into detail about how profitable the sleep center actually is.
So rapidly growing a field is sleep medicine that even the expanded Trinitas facility continues to have a waiting list, although DiLiegro says it is now down to 1 month. She would like to add four more sleep testing rooms, but that would mean adding employees, and good employees can be hard to come by, partly because Trinitas requires all its polysomnographers to become registered with the Board of Registered Polysomnographic Technologists (BRPT).
"There is a shortage of those qualified in polysomnography," says Vipin Garg, MD, FCCP, FAASM, who is Trinitas Hospital's academic chief of the pulmonary division and also medical director of the Sleep Disorders Center. "We will only accept the best."
Even though it may make staffing harder, the Trinitas center is proud of being choosy about who it hires. Sleep medicine is one of the new easy-entry, low-capitalization cash generators in health care, and Garg says unqualified sleep centers have been opening in doctors' offices all over New Jersey. "You need a license, but as of now New Jersey just wants the fee. All you need is the check in the mail," Garg says.
To counteract this trend, Trinitas has decided to take the absolute high road. Besides being both AASM and JCAHO accredited, a high value is put on staff training. Garg is a sleep specialist, and each polysomnographer must be well trained and become registered by the BRPT. Most of the staff are also respiratory therapists, which adds to the level of care provided. He or she must also become qualified in emergency skills for basic life support and advanced life support skills to get hired. Continuing education credits are required by each staff member.
Growing Demand
Trinitas treats all types of sleep disorders, but like most sleep centers, the majority of the patients that undergo polysomnogram evaluation at the facility have obstructive sleep apnea. One of the factors involved in sleep apnea is obesity, and a combination of cultural and economic factors has made obesity rates higher in low-income Hispanic and African Americans.
"The increase in obesity has definitely led to an increase in sleep problems," Gonzalez says.
Medical Director Garg says undiagnosed, untreated apnea leads to on-the-job and on-the-road accidents, and it is linked to diabetes, heart attacks, and strokes. "So apnea can behave like a silent killer," he says.
Garg estimates that one third of all people have some sort of sleep disorder. He says about one person in 20 has sleep apnea.
"I had a young guy who was a police officer and was sleeping on the job," Garg says. "He was suspended and he came to see us. He was diagnosed with obstructive apnea, and we treated that. He got his job back and he is doing fine. He is happy and successful."
Sleep apnea commonly strikes adults, but it can strike children too. One of the four sleep-testing rooms at Trinitas is set up with an additional bed for parents or family members who will accompany children being tested.
"If a child has sleep apnea, that child becomes overactive, which can lead to a false ADD (attention deficit disorder) diagnosis," Gonzalez says.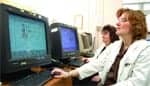 Carol Birritteri, RRT, (front) and Nancy Gonzalez, RRT, RPSGT, keep a close watch over the center's patients as they sleep.
Night work
"I'm definitely a night person," says Carmen Falvo, RRT, RPSGT. "For some reason, I need a lot more sleep when I work days." As a night person, Falvo is well cast for her job as the Trinitas sleep center's chief night technician. Her job is to watch other people snooze.
"Probably 99% of the patients [have] sleep apnea," Falvo says. "If a patient comes here, they have had problems sleeping for years…. We get a lot of people who are falling asleep waiting for a traffic light. It has come down to a real situation for them."
Falvo says most people who come in for sleep testing do not have a problem going to sleep in the center. They have been shown a video on apnea, and the preparation for monitoring involves fixing recording electrodes on the patient's head. "It is like a massage," Falvo says. "This is a quiet place. It is very rare that the patient doesn't sleep."
After the patient has been prepped, he or she can watch TV until 11 pm. Then it is lights out, Falvo says. If patients need to go to the bathroom at night, they can be quickly disconnected from the monitors and then reconnected when they return.
While the patients sleep, Falvo and her coworkers are watching the monitors and adjusting them to gather the most accurate information on cessations in breathing and other sleep factors. These results will later be given to Garg, who will make a diagnosis and plan a treatment. Severe apnea patients may have 100 breathing cessations per hour.
"We are constantly busy," Falvo says. "We need to adjust the settings so that the test gives a more accurate description of what the patient is actually doing, and you have to do these adjustments throughout the night."
Falvo estimates that up to 95% of the patients tested for sleep apnea end up being diagnosed with it. "When they come here, they have problems. We do not get the ones who have nothing."
Enter CPAP
If the patient tests positive for sleep apnea and ends up needing CPAP treatment, they are titrated the same night as their sleep test. The next, and bigger hurdle, is helping the patient afford the device and remain compliant with treatment.

Vipin Garg, MD, FAASM, checks on Michael G. McIntyre.
Trinitas sees many uninsured apnea patients for whom the $500 to $1,500 cost of CPAP treatment is too big a financial burden, and the hospital tries to ensure the patient gets a machine somehow, Garg says. The staff works very hard with durable medical equipment providers to make certain treatment is rendered.
Once Garg has specified a prescription for CPAP, a final hurdle arises—making sure that the patient actually uses the machine. Gonzalez says that, under Garg's direction, the sleep center has adopted a somewhat relentless program to make sure that occurs. The heavy follow-up is necessary because successful use of CPAP can be challenging. About 5% of patients cannot tolerate the CPAP titration.
But she says the sleep center has a responsibility to get CPAP patients to comply with the treatment. For that reason, every patient is monitored at home for the first month with compliance monitoring technology. Those who say they are complying with treatment but really are not are then asked to come in for more education and to try on different masks.
Every quarter the sleep center holds a bilingual CPAP user's support group so that patients can discuss their problems and get advice from successful users. One polysomnographer is assigned the responsibility of making sure that patients are in compliance.
"Anybody can make money doing sleep studies, but we have a mission—better health because of our treatments," Gonzalez says. "It is very time-consuming, but Dr Garg wants our patients to use the equipment unless they absolutely refuse, and then that is documented."
As a result, Gonzalez says the Trinitas Sleep Disorders Center has a CPAP compliance rate between 85% and 90%.
Serving Latinos
As patients with apnea and other sleep disorders, Latinos are not much different from other ethnic groups, say Gonzalez and her colleagues. But stressors like immersion in a new culture and struggling to make ends meet do play a role in the numbers of people who develop disorders.
To help its Latino patients, the Trinitas center not only breaks language barriers, it uses its special two-bed room to let family members accompany the patient if they want, something that Gonzalez says occurs frequently with the sleep center's Latino patients. The center also links Latino patients with home care CPAP providers who can address their language and patient-education needs.
"Even though we market to a wide population, we are most proud of our service to the Hispanic population," Gonzalez says. "Few sleep centers go out of their way to make sure the needs of that population are addressed. We have a panel of providers that we use on a rotating basis, and we know which ones have a capability in Spanish, and we make sure Hispanic patients receive that care."
The future
One goal of the Trinitas sleep center is to place more emphasis on daytime sleep testing. This is not only for patients who work nights, but for those who need tests other than for sleep apnea, such as narcolepsy. Garg wants the center to find a less hectic and noisy place than its current ground floor location to conduct daytime testing. "We want to make sure the daytime testing is done in silence, so now we have to schedule on weekends," he says.
Garg says employers are becoming more aware of sleep-related problems that impact workers, to the point that some are occasionally requiring sleep testing as a condition of hiring. But he says primary care doctors are a long way from being as educated about sleep disorders as they should be. The Trinitas center will continue its many physician education activities, which range from classes to the distribution of educational materials.
As an industry-wide goal, Garg says it is important to develop clear licensing standards for sleep centers. "It is easy to open a sleep center, but I think there is a need for somebody to look at quality before it can start operating. We try to make people aware of sleep disorders, but if they go to a bad center, they will lose trust in sleep medicine."
Garg wants the state to develop and apply stricter controls. "What are the standards? As far as I know, there are none," he says. New Jersey, he says, requires a license but demands only the fee as qualification. "There are no regulations in place at this time," Garg says.
Nancy Gonzalez concurs, "The standards have to be developed," she says. "We hear from patients that quality testing varies greatly from place to place. Our goal is to give excellent quality to all patients at all times."
George W. Wiley is a contributing writer for Sleep Review.