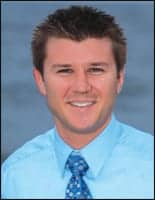 Most agree that fatigue is an issue in certain medical professions, but how to deal with it is a more divisive issue. Some feel rest requirements are needed; others claim physician autonomy tops all. For the sleep professional, an opportunity to educate lies ahead.
Last year, the Accreditation Council for Graduate Medical Education (ACGME) Board of Directors approved a set of requirements that included graduated standards for duty hours for the nation's 111,000 residents training in ACGME-accredited teaching institutions. The new standards will go into effect in July 2011 and set more specific requirements for alertness management and fatigue mitigation strategies.
The American Academy of Sleep Medicine (AASM) applauded the ACGME review of resident hours. According to the AASM, the academy supports requirements "based on peer-reviewed evidence showing the cumulative effects of sleep deprivation and the effects of circadian biology, for physician training programs."
Now that changes are being instituted at the resident level, the issue of fatigue among medical professionals is reverberating through the greater physician community.
A December editorial in the New England Journal of Medicine argues that sleep-deprived physicians should not be permitted to proceed with an elective surgery without a patient's informed, written consent.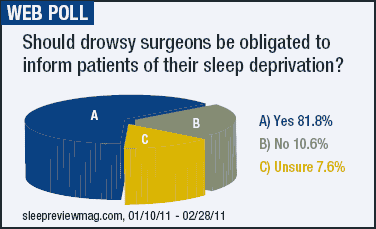 An accompanying rebuttal to the editorial included strong opposition by three American College of Surgeon leaders. "Surgeons who meet the ACS's standards of professionalism and ethics are committed to delivering safe surgical care in an optimal environment, to acting transparently, and to accepting accountability for patient outcomes," the authors wrote in the rebuttal. "Professionals of this caliber are likely to view the authors' recommendation that surgeons be required to disclose the number of hours they have slept as oppressive and insidious. Many other factors—including marital difficulties, an ill child, financial worries, and so on—negatively affect performance. Are we going to demand full disclosure of these problems as well?"
The authors go on to state that mandates are not the answer but rather propose educational endeavors as a solution. "To ensure that surgeons are appropriately trained to understand the effects of fatigue and other conditions on performance, professional organizations should provide courses on this important topic," the authors wrote.
Regardless of which professional opinion prevails, sleep professionals are in a place to educate—due to either eventually instituted standards, or training to help physicians recognize symptoms of fatigue. Stay abreast of current fatigue research, understand the impact of fatigue on medical professionals, and increase your involvement in fatigue research. Advancing your career in these areas will help you to be positioned to serve the growing need of fatigue education.
—Franklin A. Holman
[email protected]