In between eating a food court lunch and buying holiday gifts, shoppers at Park Meadows mall can now shop for CPAPs and rent home sleep testing devices. This convenience is courtesy of Somnia, a retail store that opened at the high-end Colorado shopping center on November 1. If it succeeds, Somnia could be part of a welcome paradigm shift in how consumers perceive obstructive sleep apnea (OSA) diagnosis and therapy.
"The data told me that there was an opportunity for a different approach that made OSA screening, testing, diagnosis, and treatment much easier and accessible to consumers than it is now," Somnia Sleep Wellness Inc CEO Peter Fatianow told me via e-mail.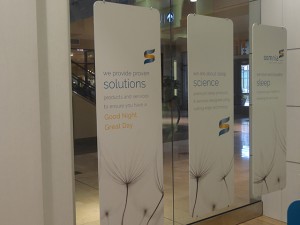 The most innovative service Somnia offers is also the most likely to rankle members of the sleep medicine community: home sleep testing device (HSTs) rentals, a cash-only offer to the store's shoppers ($99 through 2014; $199 after). Some professionals have raised concern that the devices could be dispensed to consumers who are not appropriate HST candidates. Somnia has protocols in place, developed with board-certified sleep physician Dr Richard O'Brien (who is also Somnia's medical director, is chair of its medical advisory board, and interprets the store's HSTs), Fatianow said, to ensure HSTs are dispensed appropriately.
"Before we dispense a HST, we utilize a sleep screener similar to the STOP-BANG that Dr O'Brien approved to be sure we don't rent a device inappropriately," Fatianow said. "We are using the ResMed ApneaLink Plus device, which collects data on airflow, effort, oxygen saturation, pulse, and snoring, which allows us to diagnose OSA, CSA, and Cheyne-Stokes respiration with 90% reliability." Fatianow added that patients are advised up front that if they test negative for OSA, or have more complex or central sleep apnea, O'Brien may refer them to sleep center partner Alpha Sleep Diagnostics for an in-lab PSG.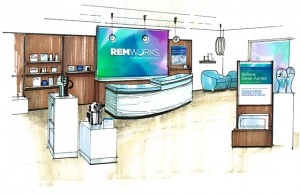 Meanwhile, across the country in Homestead, Pa, another mall is also about to welcome a sleep medicine retail store. The Waterfront will soon house REMWorks Sleep Store. The brainchild of health insurer Highmark Inc, REMWorks also seeks to change the perception of OSA—in its case by focusing on the durable medical equipment (DME) experience.
Amy Phillips, director of REMWorks, told me via e-mail: "By changing the paradigm of how a customer experiences CPAP therapy (in a relaxing spa-like setting versus in a medical equipment company office), we believe more people will desire to seek help for their sleep issues and will be more engaged in their care."
REMWorks doesn't offer OSA diagnostics, but it does offer a comfortable private room with a large recliner to help the newly diagnosed or the noncompliant ease into a CPAP mask fitting and credentialed sleep coaches who are readily available in person on weekends and evenings, when most medical services are closed.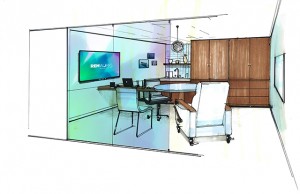 As a licensed DME, REMWorks risks backlash from traditional DMEs and manufacturers for showing its wares in a retail setting. Phillips' response is "REMWorks does not have any preferential treatment from Highmark and must 'win' customers based on performance and customer service. REMWorks will also be subject to Highmark's compliance rules, just as any other DME. REMWorks is focusing on the high number of undiagnosed OSA patients in our area in order to educate and attract customers that may otherwise go undiagnosed."
Both Phillips and Fatianow cite the high number of undiagnosed OSA sufferers as a driving factor for these ventures. The increased accessibility these stores offer is laudable. By next holiday season, we may know what that increased access truly translates into.
Sree Roy is editor of Sleep Review. CONTACT sroy@allied360.com