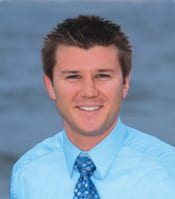 The showdown between in-lab polysomnography and home testing is melting away, and collaboration is becoming the way to remain relevant in today's sleep medicine industry. The recent merger between SleepMed, the nation's largest diagnostic sleep test provider, and Watermark Medical, a home sleep testing provider, is evidence of this evolution.
"If you look at SleepMed being lab based and Watermark being a home testing company, what you have is two groups that met in the middle to provide appropriate care," says David Lewis, SleepMed president. "We are helping to provide appropriate care through community sleep management."
Community sleep management encourages local expertise, diagnostic pathways, and appropriate therapy coordinated by one company; in this case, the joint companies now operating under the name SleepMed. SleepMed University educational and clinical activities will advance sleep awareness to physicians, employers, other providers, and the general population throughout these health care sleep communities.
"Through community sleep management, SleepMed can go to entities like the VA, major payors, and employers and provide population sleep management," says Lewis.
With more attention being given to outcomes-based compensation, effective management of assigned populations becomes increasingly important. The ability to provide population sleep management is a key benefit of being part of a larger network. Through SleepMed's database and systems that link its services together, the company can access large-scale data, giving payors insight into areas they don't have access to today.
"Employers and insurance companies are looking for organizations that can cover not just a large geographic area but can provide patient transparency and visibility that is granular enough to allow continuity and coordinated care for all the stakeholders in the local sleep community," says Sean Heyniger, CEO of SleepMed.
These stakeholders include providers, who, when operating under a large-scale system like SleepMed's, can know where patients are during each phase of their sleep disorder diagnosis and treatment process, helping to make the transition from a fee-for-service payor model to performance-based medicine. "As this shift is occurring from fee-for-service to outcomes-based medicine, you are going to see opportunity for companies that have the reach that SleepMed does," Heyniger says.
Opportunity is not limited to SleepMed; there is plenty of room for growth in the sleep diagnostics market when considering the undiagnosed sleep apnea population. However, Lewis admits, "The economics of most health care, not just sleep, is under pressure so you have to be efficient and effective."
Efficiency and effectiveness may include beefing up in size by joining forces with another organization. This will not only bolster a lab's capabilities but also help blunt the size of marginal losses a lab may be facing in today's health care landscape. As Terry Crabtree, managing partner of Health Managing Partners, Dallas, suggests in Daniel A. Brown's article on Patient Direct Home Testing, "Seek to grow by merger or acquisition or, if appropriate in your business life cycle, seek to sell or merge your business as part of another company's strategic goal."
Becoming part of a larger organization comes with benefits as health care transitions to an outcomes-based model. As the SleepMed/Watermark merger shows, there is strength in numbers. SR
---
Franklin A. Holman is the chief editor for Sleep Review Magazine. He can be contacted at [email protected].