For sleep apnea patients, sealing PAP masks properly is key to continuing treatment and effective therapy.
When doctors decide to treat a patient for sleep apnea with the use of a PAP device and mask, the success of the therapy on a day-to-day basis is in the patient's hands.
The key to compliance, many PAP interface makers agree, is the seal that keeps the mask on the patient's face. Too loose, and precious air can escape and alter the course of therapy. Too tight, and the patient might be so uncomfortable that they become discouraged and don't use the mask consistently. Tightness can also counterintuitively result in air leaks.
"The most important thing when designing a mask is the seal," says Kelly Rudolph, president of Hans Rudolph Inc. "We spend more money on the design and tooling for a leak-free seal."
For doctors and clinicians, training patients in person about how to use their PAP masks properly is the best way to ensure consistent, comfortable use.
"It's really all about initial instruction on what patients should really expect when they start therapy and understand that no matter what the anatomy of your face, you're going to have issues with mask sealing," says Susie Justus, a clinical support specialist at ResMed.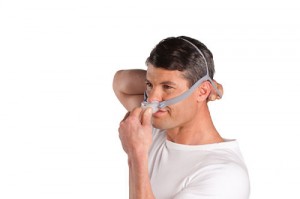 Justus says patients need to understand the difference between an acceptable leak and an unacceptable leak that will interfere with therapy.
"If you're a new patient, you don't know what to expect from a mask," Justus says. "They can be very intimidating to a new user … and if you can go through those feelings beforehand with a clinician, you'll eventually work through this."
Companies have different ways of testing their masks and making sure they will fit patients, too. While ResMed uses a computer and patient facial measurements to create a good fit, DeVilbiss Healthcare has its employees test the masks and brings in focus groups and creates surveys to develop products. Many companies provide instructional videos and user guides to help patients after their initial fitting.
On the flip side, it's crucial for clinicians to understand a variety of PAP masks on the market.
"I think it's important for clinicians to familiarize themselves with as many masks as they can," says Heather Murgatroyd, a clinical specialist with DeVilbiss. "There is no one-size-fits-all mask…. We know that early compliance leads to long term adherence."
Murgatroyd says clinicians should fit patients using their prescribed pressure, lying down, in different positions. This can help patients understand when their mask is leaking; the mask might make a louder sound and the patient can sometimes feel air blowing out the mask's sides. Working with a clinician before taking the mask home is key for patients to be able to make adjustments themselves.
"I have talked to many patients who don't realize the exhalation port is the one place that they should feel air coming out from their mask," Murgatroyd says. "We have to educate them thoroughly."
Different people also have different needs. DeVilbiss, for example, makes masks with a variety of cushion styles using gel and silicone so patients can test out which materials seal better to their face.
Another aspect to keeping masks sealed properly is knowing when to replace them; just like most products, wear and tear over time will make a PAP mask less effective. Justus says a replacement schedule should be determined between each patient and his or her clinician.
"Nothing lasts forever. In the beginning, we set up expectations about what your mask is supposed to do," she says.
Ultimately, continued patient compliance with PAP masks depends on how well patients learn to use them at the beginning of treatment. Many companies agree: The key is education.
A.J. Zak is associate editor of Sleep Review. E-mail her at [email protected].