Creating cohorts of tens of thousands of sleep apnea patients, Susan Redline, MD, MPH, has influenced research on sleep health and beyond.
If the decades of research to which Susan Redline, MD, MPH, has devoted her life has a recurring theme—it's making connections.
Her training in pulmonology and public health and her work in epidemiology were all about making connections. Her interest in sleep medicine, awakened in the 1980s while doing research on black lung disease at Ohio's MetroHealth Medical Center and learning about the advances in CPAP, was a natural segue for someone who naturally made connections.
"There are so many crossovers," she observes. "Sleep disorders have numerous dimensions—social, economic, health. There's a potential to impact and reflect so many processes."
Redline, now a senior physician at Brigham and Women's Hospital and the Peter C. Farrell Professor of Sleep Medicine at Harvard Medical School, will be honored at SLEEP 2017 with the American Academy of Sleep Medicine's William C. Dement Award for her research on the influence of genomics and the environment on sleep apnea. The research by Redline, who is also now a senior physician at Beth Israel Deaconess Medical Center, has spanned decades making the connection between various environmental and family factors and genetics with sleep disorders (particularly sleep apnea) and their role in influencing susceptibility to a wide range of health problems. Her work is being used by physicians in other disciplines to understand how sleep apnea may be a predictor of other health problems, such as heart disease in women.
Developing the Cohort
Redline's initial research into sleep apnea—a cohort she recruited in the early 1990s—continues to serve at the heart of her (and a growing number of her colleagues') research.
"In my early research at the Case Western Reserve University in Cleveland, I started a family-based longitudinal cohort because there was a dearth of information on risk factors and outcomes of sleep disorders in the general population," she says. "Sleep apnea was more common than we thought, and I was finding there were many intersections with social, environmental, and health factors."
This early research built on Redline's clinical and public health training. The Cleveland Family Study looked at how prevalent sleep disorders were, if they ran in families, and what some of the factors were—from air pollution to genetics—that influenced their development.
Because of its large sampling, Redline and her team were able to determine sleep apnea was more prevalent in African-American children than white children. Of adults who had sleep apnea, about 20% to 40% weren't obese and the disorder affected both men and women.
Even more significant, thanks to Redline's forward thinking, this research data continues to be as valuable today as it was 25-plus years ago. While there was little immediate value in collecting DNA samples from participants, Redline collected and stored it anyway. "It was the early days of genetic research, so there was limited enthusiasm for genetic analyses," she says. "There was no way we could have foreseen the ability of using DNA to identify common and rare genetic variants and change in gene structure that influence disease, as we are today. Research has moved from descriptive epidemiology to studies that integrate physiology and molecular and genetic medicine."
Today, researchers are using genetic data from the Cleveland Family Study to further their own research, adding it to other cohorts to improve statistical power. "Now we have the level of resolution to identify how variation in gene structure and function influences many aspects of sleep apnea—such as susceptibility to frequent apneas to degree of hypoxemia experienced during sleep. Furthermore, by collaborating with many others, we are preparing a foundation for sleep precision health. This is an exciting direction that we hope will inform how we can personalize diagnosis and treatment of sleep apnea," she says.
This has allowed for other intersections in Redline's research. For instance, she has worked with circadian biologists who are researching diabetes' connection to melatonin receptor levels and circadian rhythms and with psychiatrists who are researching ways that disturbed sleep influences brain function.
The Big Data Connections
Unsurprisingly, Redline is an advocate of the use of Big Data in clinical research. Big Data for her can mean, simply, lots of data—such as the tens of thousands of research records she has collected over many years of collaborating with large cohort studies, including leading a national Sleep Reading Center, and which she has aggregated in the National Sleep Research Resource, a repository she developed to facilitate large data collaborations. Or it can be what she calls "high dimensionality" data, that is, data that is detailed, diverse, and complex.
Today, researchers need a wider range of data—environmental, biological, genetic—to make breakthroughs, according to Redline. For her own research, this has motivated Redline to work with more researchers.
And she has seen data she has collected through her early cohort studies and later collaborations with national cohorts put to good use to help make further connections with sleep and other health factors. "Researchers are using these data to query and reanalyze, generating new sources of Big Data," she says.
Redline adds that Big Data has created "wonderful opportunities" to expand knowledge of sleep apnea susceptibility. For instance, she has helped to make potential breakthroughs in cardiology. "What's been exciting to us in our cardiology study outcomes of sleep apnea patients with women is discovering that older women with sleep apnea are at risk for heart failure, likely due to susceptibility to cardiac ischemia occurring with sleep apnea," she says, and that is opening the way for more treatments.
Redline also continues to examine both environmental and socioeconomic issues related to sleep apnea. For example, she's been doing research about sleep apnea and how it's affecting minority communities. She has been a leader in a large study of sleep apnea in 16,000 Hispanic American individuals and is actively working with low-income communities in Boston to identify strategies for improving sleep in people at high risk for sleep apnea and insomnia.
She is also collaborating with pediatricians across the United States to better understand how to treat children with sleep disorders. Her studies have identified suboptimal responses to tonsillectomy in African-American children. Redline has hypothesized this could be due to environmental factors that cause chronic inflammation and continuing symptoms and will soon begin a study examining the specific household and neighborhood triggers for airway inflammation.
Building a Data Stream
Again reflecting her public health background, Redline has gone beyond the lab (or the computer screen) and engaged patients directly via the Internet with the Sleep Apnea Patient-Centered Outcomes Network (SAPCON). The patient-centered research network went live in 2013. Its goal is to empower patients and inform researchers to treat and research sleep.
"With the patient-centered network, I have seen really involved, motivated patients who are breaking down the stereotypes of what patients look like, and are eager to lend new perspectives to efforts at improving sleep apnea recognition and treatment," Redline says.
Taken together, all of Redline's research has one ultimate goal. "I want to utilize rigorous data to help design approaches for preventing sleep disorders and for improving the treatment of all patients with sleep disorders, including those from disadvantaged communities."
[metaslider id=216359]
Making an Impact
Redline's own contribution to making an impact on sleep medicine and medicine in general has been the involvement in numerous large-scale research studies and authoring more than 400 peer-reviewed articles. But it's not her own research she is most proud of. It's the impact she's made on fellow researchers.
"My proudest moments have been seeing junior colleagues and trainees get excited about sleep, and get grants and succeed," she says.
For their part, junior colleagues and mentees agree that Redline has been instrumental in their clinical and research success both when they were starting out and through to today.
Reena Mehra, MD, MS, FCCP, FAASM, director of sleep disorders research, Neurologic Institute, and associate professor of medicine at the Cleveland Clinic Lerner College of Medicine of Case Western Reserve University, has known Redline for more than 15 years, first working under her via a T32 NIH Training Grant in Sleep Medicine Neurobiology and Epidemiology at Case Western Reserve University. It was a transformative experience.
Mehra says that Redline "has provided me with the skill set in sleep medicine epidemiology needed to develop a research career in sleep medicine funded by the NIH and foundation grants. In my early career, not only was she a mentor to me and others, but very importantly she has been our sponsor by facilitating national and international connections and collaborations. She is truly an amazing role model for so many, and I am honored to say that she has been a key, steadfast mentor in my career."
Sanjay Patel, MD, MS, visiting professor of medicine, director of the Sleep and Cardiovascular Outcomes Center, and the medical director of the University of Pittsburgh Medical Center (UPMC) Sleep Laboratory, credits his early and ongoing success to Redline. "Dr Redline has mentored me in epidemiologic sleep research for over 15 years. I have learned how to design both observational and interventional studies, collect high-quality data, and use state-of-the-art analytic techniques to make novel insights in sleep medicine," he says. "She has pushed me to think critically, to be open to completely new ideas and hypotheses, and to build collaborations with experts in other fields in order to move understanding of sleep medicine forward. Although I now direct my own center, I still touch base with Dr Redline regularly to pick her brain and get advice and feedback."
While Mehra and Patel were nurtured by Redline during their early training, Neomi Shah, MD, met Redline when she was a researcher at Albert Einstein College of Medicine in New York. There Shah began her work on the connection of coronary artery disease and sleep apnea, which is ongoing.
Redline has been instrumental in helping not only junior colleagues but women in particular, Shah says, and credits Redline with helping to secure several foundation grants for her sleep research. "She has been monumental in my career," Shah says. "I didn't know her and she had no reason to help promote me."
Redline not only has influenced peers and those she's mentored, but also has inspired her son who works helping the homeless (and is not a sleep researcher). Her son suggested to his superiors that they do research on sleep in transitional-age homeless youth. "He just picked up on my research and my interest in public health—that's made me very proud," Redline says.
What's Next?
Redline continues to be busy doing research. And that means building another cohort. She's currently setting up a research group in urban Boston looking at sleep apnea in a low-income minority community. She is also continuing her research into the connection between heart disease and sleep disorders and hopes to test new interventions to reduce heart disease in sleep apnea patients.
While Redline sees the interest in sleep by the public and media encouraging, she also observes that in terms of personal behavior many Americans don't make sleep a priority. It also concerns her that many patients are still underdiagnosed.
"We need to improve efficiency in diagnosis; 80% of sleep disorders are undiagnosed in the general population," she says. "For Chinese and Hispanic communities, it's about 90%."
The good news for sleep medicine is that CPAP has become one of the most effective ways to treat sleep apnea, but it isn't a panacea. Many patients aren't adherent to it, because they need better education or they need different therapies, says Redline.
While this is a challenge, Redline's research is making an impact and will continue likely making the connections that have been the hallmark of her career, improving sleep health and health in general. With all of her relentless research, she admits, "It seems like I never catch my breath and there are more questions than answers."
While writing his profile on Susan Redline's research for Sleep Review, C.A. Wolski was inspired to make connections throughout his daily life, including his own sleep habits and his day-to-day health and mood—his wife was grateful.
[sidebar]
Double-Take: Two Covers for Two Conferences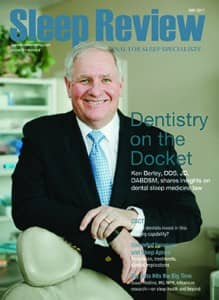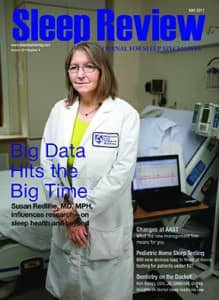 The May 2017 previews the AADSM Annual Meeting as well as SLEEP 2017. So all subscribers get a bonus cover story (Big Data Hits the Big Time: Susan Redline, MD, PhD, and Dentistry on the Docket: Ken Berley, DDS, JD, DABDSM), but each cover is specific to the story we thought would most interest the specific subscriber. Stop by our exhibit hall booths to see the other cover in person. [/sidebar]