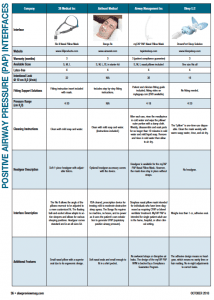 Compare 12 positive airway pressure (PAP) interfaces, also known as CPAP [continuous positive airway pressure] masks, side by side. Click on the thumbnail above or on "PAPInterfaces1018" to view the full matrix at a legible size. Sleep Review's mask matrix compares features such as warranty, available sizes, latex content, intentional leak, fitting support, pressure range, headgear, and cleaning instructions for the following products: 3B Medical Inc Rio II Nasal Pillow Mask, AirAvant Bongo Rx, Airway Management Inc myTAP PAP Nasal Pillow Mask, Bleep LLC DreamPort Sleep Solution, Drive Devilbiss NasalFit Deluxe EZ CPAP Mask, Fisher & Paykel Healthcare Brevida, Hans Rudolph Inc 7600 V2 Full Face CPAP Mask, Hans Rudolph Inc 6860 Quest Full Face CPAP Mask, Philips Respironics DreamWear (full face option), ResMed AirFit F20, ResMed AirFit N20, Sunset Health Solutions Deluxe CPAP Mask, and Vyaire Medical Advantage Series Full Face Mask.
A version of this comparison guide is published in the October 2018 print issue. If your company is missing, please e-mail sroy[at]medqor.com so you can be considered for the next update.
Information for this guide based on data submitted by product manufacturers. Sleep Review strives for accuracy in all data but cannot be held responsible for claims made by manufacturers. All interface makers may not be included. E-mail sroy[at]medqor.com to be considered for the next update.