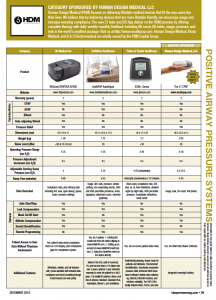 Compare 8 positive airway pressure systems side by side. Click on the thumbnail above or on "PAP2014" to view the full matrix at a legible size. Sleep Review's PAP matrix compares features such as operating modes, dimensions, noise level, ramp time, data recorded, and features such as leak compensation for the following products: 3B Medical Inc RESmart BPAP25A B7000, DeVilbiss Healthcare IntelliPAP AutoAdjust, Fisher & Paykel Healthcare ICON+ Series, Human Design Medical, LLC The Z1 CPAP, Human Design Medical, LLC The Z1 Auto, Philips Respironics System One REMstar Auto, ResMed AirSense 10 AutoSet for Her, and Somnetics International Inc Transcend Auto.
A version of this comparison guide was published in the 2015 Product Guide (December 2014 issue). If your company is missing, please e-mail editor Sree at sroy@allied360.com so you can be considered for the next update.
Find out about the latest product releases at www.sleepreviewmag.com/products.