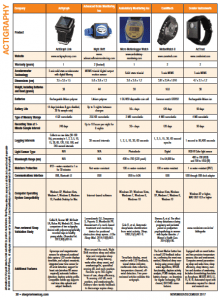 Compare 7 actigraphy devices side by side. Click on the thumbnail above or on "1117Actigraphy" to view the full matrix at a legible size.
The matrix compares actigraphy products across the following specifications:
Warranty
Accelerometer Technology
Dimensions
Weight
Batteries
Battery Life
Type of Memory Storage
Recording Time at 1-Minute Sample Interval
Logging Intervals
Light Sensor Type
Wavelength Range
Moisture Protection
Communications Interface
Computer Operating System Compatibility
Peer-reviewed Sleep Validation Study
Additional Features
The following products are included in this matrix: ActiGraph's Actigraph Link, Advanced Brain Monitoring Inc Night Shift, Ambulatory Monitoring Inc Micro Motionlogger Watch, CamNtech MotionWatch 8, Condor Instruments ActTrust, Philips Respironics Actiwatch Spectrum PRO, and SOMNOmedics America Inc SOMNOwatch.
A version of this comparison guide was published in the November/December 2017 issue. If your company is missing, please e-mail sroy[at]medqor.com so you can be considered for the next update.
Ask your actigraphy questions here and get an expert response.