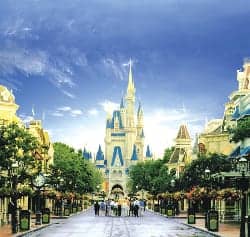 In its 14th year, the conference adds a 3-day lecture track for physician CMEs, plus boasts two keynote addresses, a bustling exhibit hall, and entertainment ranging from a full-fledged comedy show to impersonators and caricature artists. Bring your spouse or entire family to Orlando this May.
Special to Sleep Review
Dig out those Mickey Mouse ears. Focus is just around the corner, and for spring 2014 it returns to Orlando's Walt Disney World Resort in Florida. This can't-miss conference will be held May 15 to 17, 2014.
Never been to Focus? For 14 years now, the Focus formula of fantastic lectures, free food and drink, and lively entertainment has been a successful one. This past fall, for instance, Focus took everyone to see Elton John. A spectacular lineup is planned for the upcoming spring show as well. Plus, how often does a tax-deductible trip to Disney World come along?
Sleep Review will be in attendance, as we've been for many years. We'll have a trade show booth and will be reporting on all the festivities.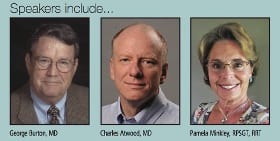 Focus Spring 2014 speakers include Karyl Scott, RRT; Charles Atwood, MD; George Burton, MD; Pamela Minkley, RPSGT, RRT; Tim Op't Holt, EdD, RRT, AE-C, FAARC; Frank Roman, MD; Stephen Sheldon, MD; and Robyn Woidtke, RN, RPSGT. (Look up entire agenda at www.Foocus.com.) All lectures are given twice so you won't miss anything.
In addition, there will be two keynote addresses, two dinner workshops, a free manager workshop with a cocktail reception (last year, 300 managers attended), and a special workshop on mechanical ventilation by Neil MacIntyre, MD. Plus, the Board of Registered Polysomnographic Technologists (BRPT) will be conducting its Clinical Sleep Educator Course the day before Focus begins. For 2014, people who attend both the BRPT program and the Focus conference will receive a 20% discount off the price of each.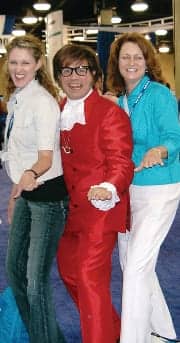 This Austin Powers lookalike is one of many impersonators who will grace the Focus floor.Another highlight of Focus is the exhibit hall. In addition to the requisite aisles of exhibitors and recruiters, there is free beer, wine, and soft drinks, delicious hors d'oeuvres, live music, impersonators, caricature artists; and door prizes. There is also an annual 5K race with cash prizes and a comedy show. Focus lets attendees bring one person (18+) to the conference for only an extra $100. "I appreciate that I was able to bring my wife for only $100 extra," says Joseph Oliveira, RCP, of Doctor's Medical Center, Oakdale, Calif.
"She enjoyed it immensely and gained a larger appreciation of what we do as therapists." Partners of attendees will enjoy all aspects of Focus—making the conference a mini-getaway for couples or a full-fledged vacation for families.
Further encouragement to bring the whole family comes in the form of Focus arranging for rooms at Disney's Coronado resort for only $139 per night (up to quadruple occupancy!), so bring your family or room with friends to share expenses. Coronado guests also enjoy free Disney Express transportation to and from the airport, extended park hours, discounts on park tickets, and free shuttle transportation between the hotel and the parks, saving you even more cash.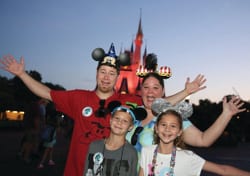 With room rates negotiated for up to quadruple occupancy, Focus provides a great opportunity to spend time with your family at Disney World.Bob Miglino, RRT, and more than 30 of his crew members pay close attention to every detail of the conference. Miglino describes it as a "labor of love," and his crew participates in every task, from bussing tables to introducing speakers. "Focus conferences are the best. They've got it right and the volunteer crew is priceless," says Kathleen McGeary, LRCP, of Altoona Regional Health System, Altoona, Pa. The crew looks at the conference as put on by colleagues, for colleagues. The crew considers it a party—that boasts 75 lectures and a ton of fun—which is packaged as affordably as possible. The committee realizes that attendees are not receiving reimbursement to attend conferences as in the past, so a driving force of the conference continues to be value. "This conference attracted me because of its claims of value. It was true: a great deal for a very fair price," says Jorge Gallardo, RRT, of Healthsouth, Tucson, Ariz.
New for the 2014 conference is a full, 3-day track of lectures approved for physician CMEs—so bring your medical directors. Also, instead of its regular track of critical care nursing lectures, Focus will present a full 22 credit, CCRN/PCCN review course this time around for nurses who plan to take those respective exams. Be sure then to spread the word to your friends in nursing.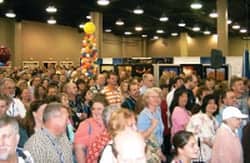 Attendees crowd in to the lively exhibit hall.Focus has become the most comprehensive combined show for respiratory care and sleep medicine in the world. Many, including numerous speakers, remark they had never been to a more organized, smooth-running conference and newbies have consistently commented that they'll come back for the next event. "A great conference. I learned a great deal and had a lot of fun," says Chris McCormick, RRT, of West Virginia University Hospitals. "This was my first Focus, but it won't be my last."
The Focus conference offers a combination of professional academic symposia replete with fun, laughs, and good times at every turn—this season Disney World adds to the magic. It's not the same old-same old. Instead, each year Focus comes up with new, innovative ideas that leave attendees wowed. People love the conference and, with such a great location, thousands more will fall in love. "Last year was my first Focus. Why did I wait so long? It was great," says Rachelle Fisher, RPSGT, of Island Hospital, Camano Island, Wash.
We look forward to seeing you in Orlando!